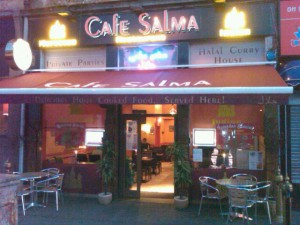 Well it must be the Fish :  'Ravi Machi'.
What is better than a Curry-Heute to celebrate the day that the Website curry-heute.com takes over from the old Blog address?  There is a distinct need for a proper Homepage but hopefully Bob will help build it.  Everything that was on the original Blog is now here, and more!  Hopefully the beautiful orange hues (Hector's colours!) will in time replace the chocolate you may be experiencing.
Hector and Marg out midweek?  We are off to see Gong, it is some 35years since Hector saw the Steve Hillage band at The Kelvin Hall.  The Gong experience would be new.
We received the usual warm Cafe Salma welcome  (523 Sauchiehall St, G3 7PQ).  The complementary poppadom and chutneys arrived as we took our seats.  Marg spotted the Lamb Lahori Karahi (off-the-bone) and Hector ordered the planned Ravi Machi: Garlic, Ginger, Tomatoes, Peppers, Onions and Fish Special Masala.  They were of course able to make this without the dreaded Capsicum.  The Mushroom Rice and  the always impressive Garlic and Coriander were ordered to share, perfect.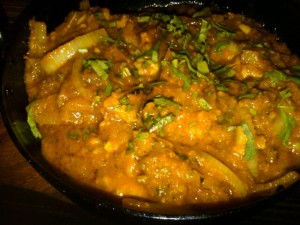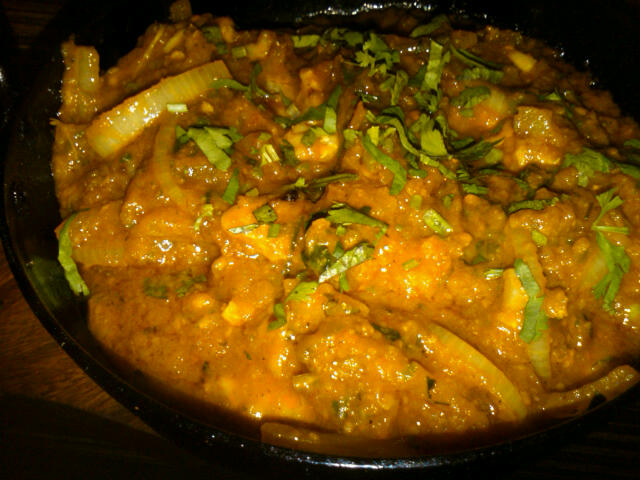 Hector has rarely seen Marg demolish a Curry so quickly and in its entirety, so I can make no comment as to the quality of the Lahori Karahi Curry-Heute as there was none to spare.  The Ravi Machi certainly looked the part.  This is my first Fish Curry in a restaurant since the outstanding Chettinad at the Mango in Muenchen.  Fish changes the entire nature of a Curry.  There is an expectation of Salt but they usually end up with a very pleasant sweet aftertaste: this was no exception.  The sauce was relatively thick; there was a decided presence of Onion.  Perhaps this was more evident since I had the meal to suit my disgust at Capsicum.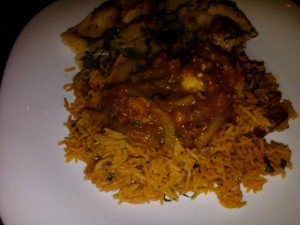 Hector will order this again.
In six visits to Cafe Salma I have yet to be anything but impressed.  The welcome by the staff and the efficiency of the service is possibly the best in Glasgow.  There was disappointment on Hassan's face when we asked for the bill to make our escape.  No time for coffee and dessert: we are off to see Gong!