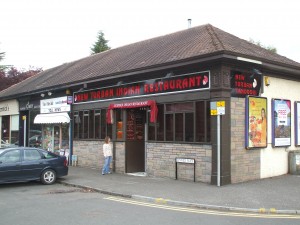 As regular readers will know, on the odd Sunday that Marg is free of hockey commitments we go out.  Yes, Hector is not a paid up member of the Bad Boys' Club, he normally stays in on the day of rest and shops and cooks and watches a Fest of television.
Lunch at the St Louis was the obvious place as finally we have found a place in the West End with suitable ambience and a decent menu.  The 'Wee Scottish Breakfast' with Stornoway Black pudding went down a treat.  This was about 13.30.
Yes, a Curry-Heute was planned!  The New Turban Tandoori (2 Fenwick Place, Eastwood Toll, Giffnock, G46 6UF) has been on the radar for some time.  But first there was an extensive walk around Rouken Glen Park to work off the breakfast.
It is many years since Hector set foot in this park.  Marg was in charge of navigation, help ma Boab…  We did find the waterfall and retreated to the garden centre for a refreshment, it was too early to eat a Curry-Heute.
For our own amusement we also hung around the Xmas section of the Garden centre… check the date…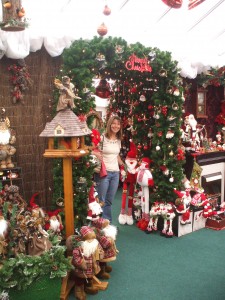 Hector phoned the new Turban just after 16.00 to ascertain that they were indeed open.  The place is well set up with a membership card which guarantees 10% off the bill.  We arrived at 16.50 and were immediately told that we could have a main meal at half price as part of the pre-theatre menu.
The Desi Lamb Handi (a traditional home-made Lamb on-the-bone dish.  Finger licking good) was obviously going to be Hector's choice.  Marg opted for the Punjabi Mint (a tangy dish made with Patia sauce and a hint of mint), clearly this would have to be Chicken as we both know Patia simply does not work with Lamb.
Mushroom and Zeera Rice and two Chapattis were the accompaniments.
Attentive staff and efficient service is one thing, but our dishes (no starters) arrived at 16.05.  We had hardly been in the place.  How could they prepare a Desi dish in this short space of time?
We both looked at the Desi Lamb Handi, disappointment was clearly written all over Hector's face.  'I can tell you what this will taste like before I even put it in my mouth' declared Hector.  It was the classic and awful 'what happened to the Onion' runny sauce.  Indeed, a typical German Curry!  The level of blandness was off the scale – and the portion was so small!
This was such a letdown.  Is this the shape of things to come – Glasgow Curry houses just stick 'Desi' on the menu and deliver nothing special?  One cannot believe that this is what the Chef eats at home.
This place states on its menu to have been called the best restaurant in Scotland by the Press.  In days gone by perhaps, but certainly not on this presentation.
I was still hungry and in the mood for a 'real' Curry-Heute.
Hector tasted the 'Patia', it was ridiculously sweet.
Another one bites the dust.