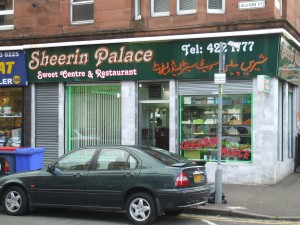 Just how do they do this?
On completion of our Biertoday activity, Dr Stan and Hector descended upon the nearby Sheerin Palace on the Southside, (300 Allison St, Glasgow, Glasgow, G428HQ).  This place was first spotted whilst parking in Daisy St en route to the Yadgar a few weeks ago.  This part of the city has a high immigrant population, it was inevitable that such places would evolve.
Aesthetically the Sheerin Palace does not live up to its own name; however the food served is certainly fit for a king.
We took a seat in the small café section of what is clearly more of a take-away outlet.  Two couples were already in situ, a large table had plates on it and a sign suggesting a large party would arrive imminently.  Having sat for a few minutes nothing happened.  Hector went up to the counter and looked for an on the wall menu or a card.  There was nothing.  The chap behind the counter made eye contact, here we go…
'This is what we have.' He said gesturing to the metal trays under the glass on the top shelf of the counter.  'OK, what is all this?' replied Hector.
There was a Rice platter with pieces of Chicken on the bone, but evidently not the choice cuts. An unmemorable/unpronounceable name was given for the next platter: 'Bird!' he said, it was later established that it was Quail.  There were also platters with Okra, Chana and Daal as three separate Curry dishes.  The Okra did look interesting, next time.  'Mince is about to arrive.' As supplementary information.  It did.  Kofta with hardboiled Egg, very interesting.
By this time Dr Stan had come up to the counter.  Hector was in full flight: 'I shall have the Rice-Chicken with the 'Bird' and two Chapattis.'  Dr Stan could not resist the Kofta, he also selected the Rice-Chicken and Chapatti sides.
Plates and napkins were brought to the table.  So there is a waiter service of sorts.  A small Salad plate was the provided along with two portions of a yogurt sauce.  The Rice-Chicken arrived and we got torn in.  Minutes later the main dishes came.
One instantly could tell that this could be special
The Chapattis were dipped into the red, oily, onion-rich sauce.  Hector's taste buds were transported Tardis-like back to the 1960s.  This is magnificent!  Dr Stan made the current nasal noise of agreement which is currently the norm in the West of Scotland: 'Mmmm.'
A Kofta frenzy!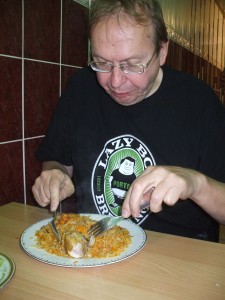 When I remarked that we would have to bring Mr Holden here for a Kofta, Dr Stan replied:' Once we could not get Kofta in Glasgow, now there is a Kofta frenzy!'
Dr Stan almost became exuberant!
How the food was heated to a temperature that was fit to eat was a concern when we saw the food on display.  It was fine.  Another chap, a Chef? appeared halfway through our Fest and asked if the food was hot enough.  They care.
Of course we had ordered far too much food.  We only left half a Chapatti each.
Hector had never eaten Quail before.  There was sufficient meat in the two pieces of Bird that were served.  The sauce was just sublime.  I wish I knew how to capture this.  Had it been Vindaloo hot it would have been like the early Curry of Glasgow.  Curry in Glasgow restaurants does not taste like this.  (The previous Blog is testimony to this.)
Superb value
£10.50 for mine and £9.50 for Dr Stan is all we were charged.
On relating the experience to Marg she of course pointed out that 'ladies like ambience'.
Hector was out for a Curry-Heute:  the Sheerin Palace has to be recommended.