Time to Wolf down a Curry Heute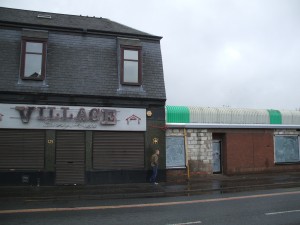 After the Wolfer Strassenfest the perfect end to the weekend had to be a lunch at The Village (129 Nelson St, Glasgow, G5 8DZ).
Two consecutive early rises: what a man has to do to get to the Mosel.  Bier today will have the account of the best wine festival on the Mosel.  Marg collected Hector at Edinburgh Airport and dropped him at The Village as she sped off to play hockey (she won 8-1 today).
The Board is back ; Lb Aloo

Selecting my favourite table for one I spotted there was writing on The Board: Lb Aloo.  The waiter assured me it was indeed Lamb.  A 'Spicy' Lb Aloo and Vegetable Rice was ordered.
I am back home, I know this is going to be good.
Hector was quite surprised by the meal when Mr Baig himself brought it to the table.  The meat was Lamb Chops and the Masala was in the Nahiree (thin) style.  Hector has yet to have the Lamb Chop Curry that has appeared on the Board.  Or was this it?  The sauce was not oily as in the other Desi dishes.  It did have the signature Village taste.
Hector does not normally eat this close after noon at the weekend.  The meal appeared to be mountainous.  Lamb and Potato are a classic combination.  This was sheer pleasure.
Minding one's own business and eating at The Village on a Sunday lunchtime, perfect.
The Village 'In the Park'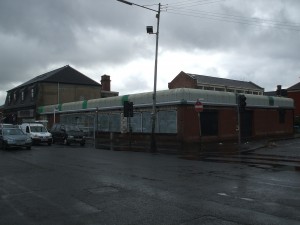 Hector had a fairly lengthy chat with Mr Baig after the meal.  The new premises are coming along, the windows are in place and the façade is going to match the existing stonework on the original building. 'Soon' was only date forthcoming for the new opening.
There was an event at Bellahouston Park on Thursday.  Hector had pontificated on the day about the ringing of the cash register as the massed hoard assembled and departed from their sermon on the mount.  Mr Baig stated that they did not have a single customer on Thursday; he had anticipated big business and had set the place up accordingly.  In the end he lost a lot of money.
How could this be?  Blessed are the Curry eaters.