A very wet day
An afterschool meeting followed by a wild goose chase around the Gareloch meant a Curry-Heute treat by Marg was inevitable.  This must also be the wettest day this year in the West of Scotland.  Helensburgh's weather forecast even rated a mention in the main BBC Breakfast TV bulletin.
The menu for the Diva (7 Stewart St, Clydebank, G81 4AD) came through the door a few weeks ago.  Last year Marg and I paid the premises a visit, it was closed.  We established at the end of the meal whilst chatting to the owner that they have only been re-opened a matter of months.
This is a cavernous venue with a tiny entrance.  They now advertise themselves as selling Indian and Italian Cuisine.  As we walked down the narrow ramp to the main room it was evident that despite being midweek and early evening, there was a crowd.  A fortieth birthday party was underway featuring an extended family with loads of wee girls ranging from tots to teens.  Enough to ruin any meal out.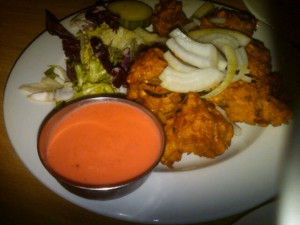 No, we are not having The Buffet!
A Vegetable Pakora was ordered, to share.  We were ravenous.  The Pakora inevitably arrived with a very large portion of Onion Chutney and two Poppadoms, complementary of course.
Marg decided that the Chicken Tikka Masala was her dish of choice for the evening.  She also managed to pick out my selection: Tender Lamb Pardesi (hot).  This was the standout dish on the menu: a rich Curry with additional fried Onions & Mushrooms, cooked with Spinach & a hint of Ginger & Garlic.
Three Chapattis and the Special Pilau Fried Rice were to share.  Of course this was far too much.
Marg was impressed with her Tikka Masala, it was thick, creamy and had a kick.  We could smell the Pardesi before it arrived.  This was a good sign.  The appearance was superb.   Indeed the Masala was thick, dark, and the Vegetables were evident in the mash.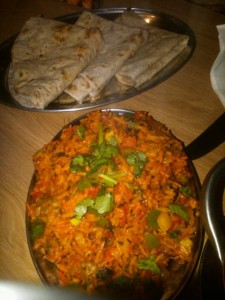 On dipping the first Chapatti Hector received a good blast of the burnt Spinach.  A Curry with taste, and not in a café!  Not only this, but a Clydebank Curry which is not a clone of every other outlet in the town.
Without the freshly cooked Pakora we would have demolished the lot.  However, we had been that hungry on our arrival.  The meat content was most impressive.  Only in Papa Gill's can Hector remember receiving a larger portion of Lamb.
The offer of complementary drinks on asking for the bill was appreciated and declined.  It is midweek after all: we are professional!
Hector has to recommend the Diva as being the provider of the best Curry he has tasted in Clydebank to date.