Another very wet day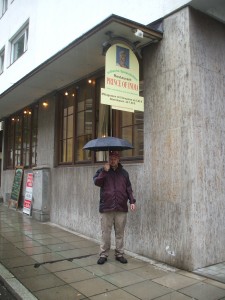 The previous afternoon there was a Bier at the former Memmingen Tandoori house.  Google Maps yet again gave bogus information: there is apparently no Rita's Garden in Stuttgart, so no Friday Curry.
Saturday lunch inevitably became finally time for a Curry-Heute.  To say it was wet in Stuttgart would be an understatement.  The Canstatter Wasen went ahead, and Steve and Hector headed out in the rain in search of a Curry.
The Prince of India (Urbanstrasse 38, 70182, Stuttgart-Mitte, Deutschland) can afford to advertise on the escalators to the U Bahn, they also appear on the giveaway city map.  Hector would have preferred seeking out somewhere more remote and even down market, but it was wet…
We were the first customers of the day at 13.00.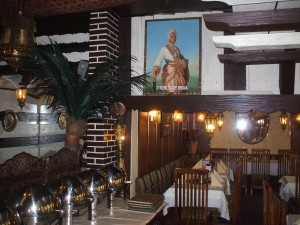 The venue is evidently a genuine Indian Restaurant.  The menu was familiar.
Hector ordered a Lamb Bhuna with Aloo Paratha to accompany,
Steve went for the Palak Gosht and a Nan.  When they came there was a bountiful portion of Boiled Rice served too.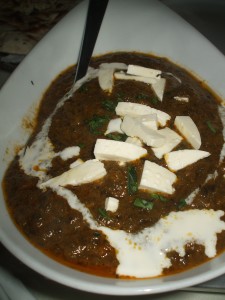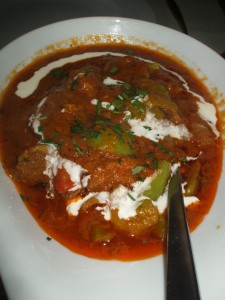 The meals looked to have been well prepared, however there was far too much sauce for a so called Bhuna.  The initial taste raised my expectations.  Had I discovered another outstanding meal?  In the end I concluded not: good but not outstanding.  Indeed the eventual conclusion was that this was actually a Rogan Josht, or it would have been anywhere else.
Steve's meal looked promising: a thick, dark sauce as one would expect with Spinach.  Steve's verdict : 'Pleasant, the sauce looked the deal, but there was too much of it, an OK taste.'
The Aloo Paratha is worth a special mention.  Served in quarters is something I find annoying.  Give Hector the whole thing and let him tear it up.  However this was not just piping hot at the start but it retained its heat longer than I have ever encountered.  How did they achieve this?
By the time we left 15 more people had come into the restaurant.  I have never witnessed this many people in a German Curry Haus this early in the day.
The overall verdict has to be a positive one.