Hector, a familiar sight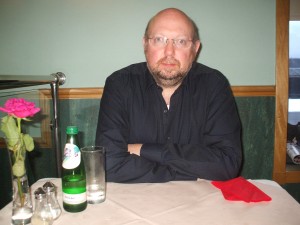 This Blog has been going some time now yet it has taken until this Curry-Heute to report on the Indian Restaurant where Hector has eaten most of his Curry.  Visits to the  Akash   ( 45 Sinclair St, Helensburgh, G84 8TG) are usually when work commitments keep Hector late: the season has begun.
Nostalgia ain't what it used to be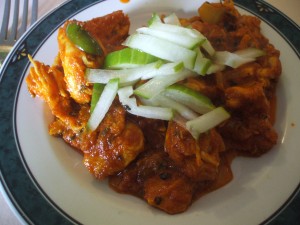 The Chicken Chat has been a stalwart starter for the 29 years I have visited this outlet.  Chopped very small it is a Mélange of Spicy Chicken, Onion and fresh Cucumber in a slightly oily but minimal Masala.  This and the Lamb (sic) Rogan Josh were my staple diet for years.  Inevitably this is what I had to order for the purposes of this report, though the Gulaap has been tried more recently.
The Chicken Chat arrived and was served in larger pieces.  Still this is very different from the Chicken Tikka served under this name, a very pleasant change.
The Rogan Josh looked as superb as ever.  The Masala is on the thick side with an overload of Tomato, both in the Masala and as added chunks.  These are slightly under-cooked so the meal has an aura of having been prepared just for the diner.
The accompanying Vegetable Rice looked worryingly large on arrival; however, Hector was to eat the lot!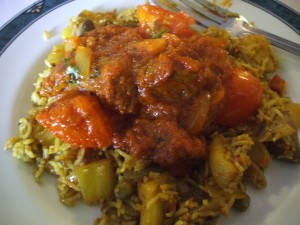 The taste is oh so familiar.  If anything the disappointing thing about the meal was the meat.  Usually the Lamb is very tender, tonight it was drier, tougher and darker.  Was it Beef?  It sure could have been!
With Navy bases in the environs of Helensburgh this place is never empty.  A large table of military personnel had entered by the time I was half way through my meal.  Business is good; the carry-out service is continuous whilst on eats.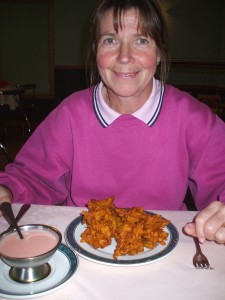 Marg came to join me for the end of my eating experience and ordered a splendid portion of Pakora.  She struggled to finish it.
The next planned Curry is at Yadgar: the full Kilogram!