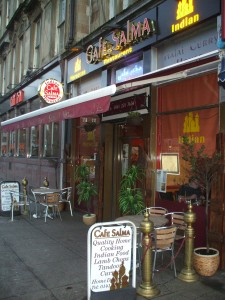 Hector has been having a Friday pre Bon Accord Curry for some months now.  With the visit to the Akash last evening and the big visit to Yadgar tomorrow, even Hector thought better of three in a row.
Occasionally Hector has flashes of inspiration; there was one today – why not go to Café Salma  (523 Sauchiehall Street, Charing X, Glasgow, G3 7PQ) and not have a Curry-Heute?
The welcome was as warm as ever.  "Do you have your camera?" I was asked on entry by the head waiter.  He was intrigued by what I do with my photos and so I showed him the Curry-Heute Website and his own photo.  He was amused, I should really ask people their name more often.
The complementary Popadom and Chutneys came to the table instantly.  Hector was nearly tempted to have a Curry.
The Cous Cous Baladi was recommended:   "This is a famous Moroccan dish. Steam cooked cous cous, topped with 7 stewed vegetables, served with chicken or lamb.", Hector had the Lamb. The Curry is evidently prepared upstairs and the Moroccan dishes downstairs. The Cous Cous arrived accompanied by three pots, one contained a bland curry coloured gravy, the second a ketchup coloured fiery and very salty sauce and the third a mélange of Onion and Raisins.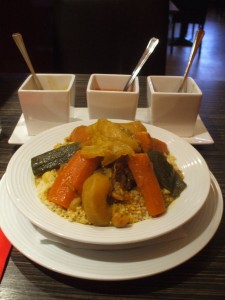 Quality control
The red sauce gave the meal a real kick, am I in Deutschland? Too salty at times, I noted, however it was when not so the meal was at its best.  Temperance, by mixing the Cous Cous well enough this was overcome.  I did overhear a lady state she found it too salty also.  The waiter took a spoon from her pot and went running downstairs.
This was by no means Hector's first Cous Cous.  Chatting with Hassan after the meal I told him I had been to Morocco – Tangier to be precise.  He suggested other places to the south, Marrakesh et al were better.  He could well be correct, Tangier was not a great holiday destination.
Enough of this distraction, Hector wants a Curry!