Goshat Karahi, The Best Curry in Glasgow, By Far!!!
There was a traffic hiatus on the south side of Glasgow.  The M8 was wedged meaning Marg was panicking about missing the start of her hockey cup match.  Mags was stuck in traffic on a bus.  Howard and Tracey avoided the jam by taking the Subway across the river.  Dr Stan walked from the West End and observed the volume of traffic and was therefore not surprised when Hector texted to state he would be five minutes late.  It is more than a five minute walk from Albert Dr to Calder St, the point at which hockey was declared to be more important than Curry?
Once assembled the Rice, Chapattis and Paratha were ordered.
Two plates of Salad were brought to fill in the remaining moments.  Anticipation levels were at their highest. Dr Stan and Hector had pre-ordered 1kg of Goshat Karahi (on-the-bone) to share.  Tracey and Howard had ordered the same dish but normal portions.  Mags the off the bone version.  Now did Tracey really think that Dr Stan and I were going to have 1kg each?  That would be gluttony!
The standard portions came first.  They looked as superb as ever.  Then came the large karahi metal bucket.  The dish was visibly drier than the portions previously brought.  The Masala was at an absolute minimum.  Time to wade in.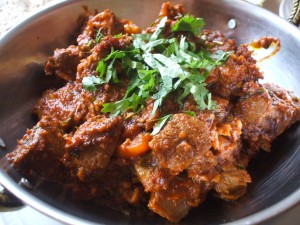 At this point Hector will inform his readers that Mr Shkoor Anwar has contacted Hector since his last visit having found the previous Curry-Heute Blog entries.  Having seen the website he has become familiar with Hector's love of the dry Bradford style dishes.
There was a chap on the premises we had not seen before, could this be Shkoor?
Hector was in Curry Heaven.  Dr Stan was his usual enigmatic self.  Tracey, Mags and Howard were clearly enjoying the moment.
This is the best Curry I have eaten in Glasgow, ever, BY FAR!
"Shoot me" when I have finished this I asked my fellow diners.
Dr Who?
Yadgar, a Glasgow Curry house, serving this quality of meal.  A back street kebab house by all appearances from the exterior.  In terms of taste, this place is The Tardis!
Unsurprisingly, Hector and Dr Stan were not first finished.  The extra quantity of meat saw us dip back into the Karahi for more, and more.  At no point did we think that there was too much.  This was also the prefect quantity.  Hopefully Dr Stan and Hector, X, Y and Z and Hector will repeat this experience often in the years to come.
"Are you Mr Shkoor Anwar?" Hector asked the chap at the end of the meal.  We introduced ourselves. "I am the chap who is known as Hector, it's a long story…." This was a meeting of like minds.  Shkoor knows Bradford.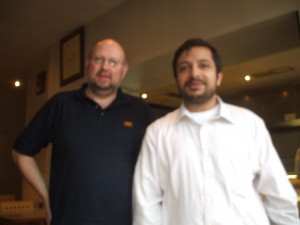 Shkoor also stated that he had told the Chef to make the large Karahi extra- dry.  This perfect meal had been no accident: this had been prepared specially for Hector's enjoyment.   Shkoor was made aware of my Website by friends of his in the USA, I thank them for pointing this out.  There will be many more entries to follow.
There is now enough information to compose a standalone page for Yadgar:  Recommended Curry Houses.  We also discussed the legendary Mr Snax and his video clip that is on You Tube.  When will our paths cross?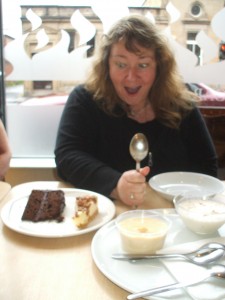 Complimentary tea was offered and accepted.  An array of Desserts appeared: the ladies loved this.  Chocolate Gateaux, a Walnut Cheesecake, a Semolina type dish and I do not have a Scooby what the last one was.  Hector does not do Desserts, Hector does Deserts!  However, my fellow diners were certainly appreciative.
This has been quite a weekend.  When Friday Night at The Bon is Blogged one may appreciate why.  It ain't over yet.  Sunday, tomorrow, is the day we take out Mother, now what shall we do, where shall we go?