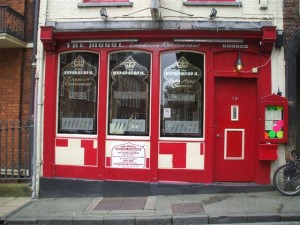 Three years ago it was Coniston, two years prior was Traben-Trarbach, and Howarth was the inaugural trip so a Bradford Curry must have been consumed on that one.  This year it is York.
Hector has never eaten a Curry in York so research had to be done in advance.  As is evident, Curry Houses are not too difficult to find in this very historic city.  However searching the local Websites no particular Curry House stood out above the rest.  Hector decided to do a sweep of the outlets and select his own.  This was brave as three other people would have their evening made or ruined by this decision.
Without the City Walls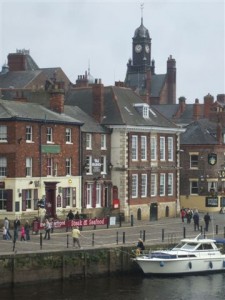 At first no Curry Houses were revealing themselves.  On the tour bus around the edge of the city walls one or two came into view.  Thereafter they kept rolling by.
The Mogul (39 Tanner Row, Toft Green, York YO1 6JP) appeared to fit what Hector was looking for.  A backstreet outlet, nothing flashy: there were many fine looking restaurants but why would one assume they made outstanding Curry?  What was interesting was the presence of a Fish Nawabi (at least that is how I remember it) plus a fall back of Methi Lamb.  What won was the 'Handi', a freshly prepared variable dish as decided daily by the Chef.  This could be it.  The telephone number was noted and a booking reservation made later in the day.
The place was not busy.  Graeme and Marion awaited us as they did not walk all round York to get there.  Located behind the Grand Hotel it is 'easy' to find.
Handi
The Handi had to be established.  'Chicken Bhuna' was what the waiter told us.  Not worth the risk I thought.
Graeme ordered a starter: The Adana Chicken Kebab: this featured egg, interesting.  This turned out to be Chicken omelette, amusing.  Graeme stated that it was tasty so this went down well.
Hector ordered a starter too (English portions!): Chicken and Garlic served on a Chapatti.  The Chapatti was folded in quarters and the Chicken-Garlic mix sat adjacent.  Where was the taste?  How could these ingredients sit on a plate and have no taste at all. The Chapatti, somewhat withered around the edges, tasted as it should so it was not me that was at fault.  Now Hector normally does not have a Bier with a Curry: in this company it is traditional.  A small bottle of Kingfisher is not designed to kill off the taste of Curry, I believe.
For the mains Marg and Marion ordered Butter Chicken.  Graeme and Hector both went for the aforementioned Fish dish, Hector asked for his to be 'hot'.
The sides : Lemon Rice and a Keema Nan for sharing by Graeme and Marion whilst we ordered our usual Special (Vegetable Rice) with a novel Vegetable and Spinach Nan.
Given the quality of the Lemon Rice served to us in Aberdeen at the Nazma, this would have to be excellent.  In the end Marion pronounced it favourable which is probably not too bad.  She did enjoy her Butter Chicken but Hector had wondered why Marg had gone for this.  The Mother India Café (Glasgow) serves her favourite version of this dish, the Mogul version would have had to be magnificent to compete, it was not.  Where was the Keema in the Naan?  Very little inserted I am told.  The Vegetable/Palak Nan was certainly novel and filling.  I would have this again.
The Main Event
Graeme was not impressed.  A 'Fish Stew' was how he described it.  The Masala was thick and brown: not the dreaded 'Bisto' effect, probably from puréed Onion.  My Fish had a kick, however this dominated, and no other tastes emerged apart from the single spice added to increase the fire rating.  The Fish taste was there but one had to be disappointed at what was on offer.  'When am I getting my Curry?' was Graeme's remark at the end.
The bill was £94: not an excessive quantity of alcohol was to blame for this.  When one thinks of the value elsewhere then this was somewhat overpriced.
We will return to York in the future and try our luck elsewhere.