It's one o'clock and time for lunch, hum de dum de dum dum…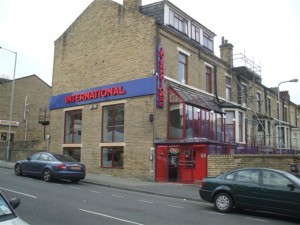 The International (40-42 Morley Street, Bradford, BD7 1B) has been Mr Holden's #1 Curry House in Bradford for some time.  Hector is pleased to state that he had tried this outlet years before Mr Holden became known to him.
The Desi Lamb (on-the-bone) was picked up after yesterday's visit to The Karachi.  Normally I would have ordered a Methi or a Karahi, however the term 'Desi' would certainly not be misused.
The liquid had congealed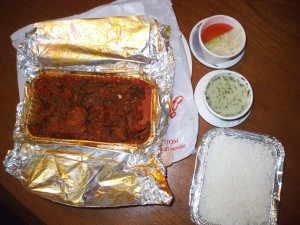 The foil wrapper was opened to reveal a thick Masala and a fully packed container.  No skimping on portion size here.  Rice?  Indeed, this was chosen for microwave purposes.
Into the Wok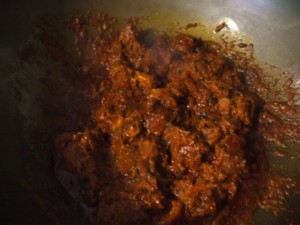 A few minutes later the Desi Lamb was coming to life.  It takes such discipline to withhold the moment and take the required photos.
Onto the plate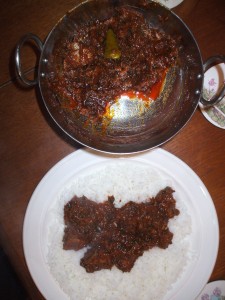 The Masala was thick, dark and the Onion content was distinctive.  The Lamb was certainly on-the-bone.  There were many bizarre shapes of bone mixed with meat only.
Down the hatch
The taste was simply magnificent!  The taste was superb.  The richness of the Masala suggested a Chef performing a labour of love had put this meal together.   More exclamations!  !  !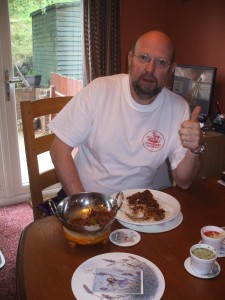 This Curry had everything.  The bits of bone left on the plate were numerous.  There was a perfect volume of actual meat on the plate.
Marg was permitted a sample: 'It's spicy!'  Well of course; this is one of the perfect Curries from one of the greatest Curry Houses.
What is for lunch tomorrow?