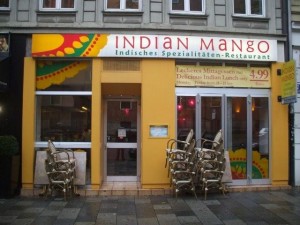 Mango, surely the finest Curry-Heute in München!
Hector's Horrible Holiday to the Bocks of Bamberg drew to a close and six of us returned to München for an afternoon before our easyJet flights back to Blighty.  Hector's previous two flights back to Edinburgh had been cancelled as is Blogged previously.  There was an air of optimism as all six of us descended upon Mr Jolly's happy Curry Haus the Indian Mango (Zweibruckenstrasse 15, near Isartor, the Deutches Museum)   just after 13.00.  Mr Jolly's very able assistant was there to serve us.  It was the ideal sceanrio of select from the menu if you wish, or else, just ask.
Lord Clive and Maggie both went for the Butter Chicken.  Maggie had sampled Marg's on a previous visit.  Maggie knew what she was having and was not disappointed.  'Marvelous!', 'perfectly fine' was the combined verdict.
The Chettinad Options
Howard knew that never having eaten the Fish Chettinad he had been missing out.  Howard hates to miss out.  He forewent a trip to Kloster Andechs in order to enjoy this meal.  What is happening?  This is one of the truly outstanding dishes Hector has ever eaten. (July)
Howard was in full flow as he described his meal: "Spicy but subtle; the Fish was delicate and absorbed the flavours without being overpowered."  I could not have put it better myself.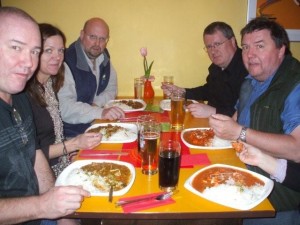 Juliet took Steve's advice and had the Lamm Chettinad (Scharf).  This restaurant was Steve's home from home two summers ago.  "Aagh…" was the first description coming from Hector's right."…bursting with flavour…lovely heat…in your face…"  Hector can concur, he was permitted to partake of the last morsels on Juliet's plate – this is a truly outstanding dish also.  Two in one restaurant!  OK, it is the same Curry with different 'meats'.
On a scale of 1 – 10 how unique is this…?
Hector decided to stick with the Bindi Gosht (Scharf). There was method in his madness.  Hopefully this would be the first of two visits to Indian Mango Heute!
I avoided the generous quantity of Lamm and took in the excellent Masala.  Such a unique flavour.  The it was the Okra, again cut into smaller pieces.  More flavours erupted on the palate.  Finally the meat.  Just how can the Lamb retain the distinct Mutton flavour whist clearly have taken in the copious herbs and spices that had been introduced so cleverly in the preparation?
This indeed is the wonder of Curry!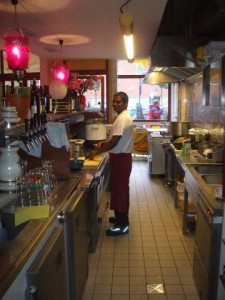 Postscript
At 17.15 in the Augustiner Grossgastatte, Maggie suggested we return to Mango for visit #2.  I reminded her of Hector's Rules.  She was serious!  Clive did not mind.  Hector declined the offer.  He was full.
There, it is written: Hector refused a Curry in one of the best Curry Houses he has ever set foot in.  I was still full.
It was time to go home and this time Mr Stelios  did take me back to Scotland.