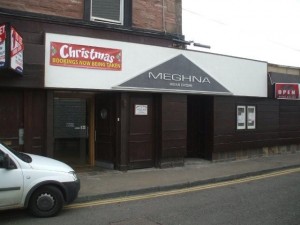 Today's Curry was expected to be in Pitlochry where nobody has rated any of the houses highly.  If the road between Kirkmichael and Pitlochry had not been closed this week Hector would not have found himself in Blairgowrie.  New research unveiled two possibilities for this town, the Sampan where customised orders are taken and the Meghna (4 Tannage St, Blairgowrie, Perthshire, PH10 6NQ) which, according to its website,  has reduced its prices in the recent past.  The latter was the only one open at lunchtime and was located with ease as I drove through the town yesterday.
One can be lucky in smaller settlements.  The Chef just might be waiting to blow your mind as is sadly no more in Memmingen.  The norm is towards disappointment, or the Bamberg Curry Experience as it may now be referred to henceforth.  If one doesn't try it, then…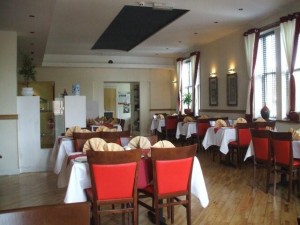 The Meghna restaurant sits around 60 people in comfort and is fully licensed.   A young waiter greeted me as I entered and became the only customer.  I was offered the lunchtime special menu but declined this in favour of the full menu.  This at least meant the Chef might have to cook something.
The number of Lamb dishes is quite restricted in terms of what suits Hector.  Lamb Chops was on offer but as these would be oven cooked the Tikka effect may have come into play.  Lamb Achori it is then.  This is not a dish I choose often but tend to do so when the dreaded Capsicum are included in every other dish.
There was about a ten to fifteen minute wait s one would hope. The waiter arrived with a hot plate and a china plate and warned me both were hot.  A good sign.  The meal arrived.  The Paratha was actually two small very light coloured Parathas, different.  The Curry was in a metal dish with a copper lid, suspense.
The Unveiling – Curry mit Oliven!
Gosh!  This looks good.  The Masala was rich, dark reddish-brown and was very thick with Onion and added chopped Onion.  I have never, ever had a Curry with Green Olives.
Anticipation
Now given that two ago I had an excellent Curry in my favourite German restaurant and on this day last week I had one of the best Bradford has to offer, there was indeed much to live up to.  Would this impress taste-wise?
This was very good.  There were oodles of flavour from the Masala.  The Lime-pickle was evident but not dominant.  Indeed, only one piece of rind was included. The Olives played their part in providing the sour Achari flavour.   The combined flavour was very good indeed.  The Parathas were sweeter than the usual and this complemented the Achari completely.
Halfway through the meal another young chap approached to ask how I was enjoying the meal.  I asked if he had cooked it.  "I did have something to do with it.."   was the reply.  He left very happy once I spoke favourably, took his photograph and gave him my calling card.
The cost of the Highland Spring sparkling mineral water was waived.  A fond farewell was exchanged.  If the pattern of this year is repeated Hector will be back.