Five go dining – The Song Remains The Same
Three Goshat Karahi (on-the bone) and twa' aff.
The order for today's meal was firstly e-mailed to Mr Anwar and then phoned in yesterday afternoon.  By early evening the owner had responded to Hector's communication and asked " Do you want on the bone, dry and hot?"
This is service.
The offer was accepted and a speculative 'Can I order half a kilo for myself' sent with the reply.  Dr Stan ( 'the other half ' – kilo) is Twechar-bound.  I do not believe that some people put Bier-today before Curry-Heute.
I could only speak for myself as Hector had an annual ordeal; sorry 'commitment', sorry 'keep the wife happy', ouch – a very pleasant evening in the company of dear friends with an excellent meal (not a Curry!), to go through yesterday evening at The Park Inn.  There was Lamb on the plate, but not very much of it.  There was taste: my pet sparrow may have feasted  on this, but come on…
The Feast Commences

The five of us were assembled by 15.30 which gave time to organise the sundries and admire the new menu.  The menu now highlights Curry as the main feature with the Kebabs and Pizzas relegated.  The waiter insisted we were six, I keep telling him five.  The mystery became apparent when the Curries were presented.
Hector's Curry came first: the white bowl contained a mountain of Hot-Dry Goshat Karahi.   The off-the-bones came and then the remaining normal portions of on-the-bone.  Howard and Tracey are now converts to the world of bones-on.
Our regular 'Mushroom Rice' has disappeared off  the menu but was still available.
There was not much said during the process of eating.  We all had exactly what we wanted; there was little need for further comment.
What is better than a Yadgar Curry?
In effect I had a double portion.  This could well be a precedent.  The disappointment of finishing such a wonderful Curry is overcome if one knows that the intake has been at a maximum.
The Followers of Sha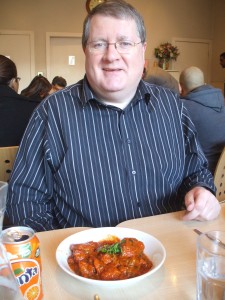 Mr Sha came out towards the end of the meal with a beaming smile on his face.  He knew his audience would be appreciative.  Here was our chance to once again congratulate the man who makes this perfect Curry.
The plan is to return next Saturday.  More will come.