It's a mystery
This time Hector has ordered something different, but knows not what it will be.  However I am not passing on the Goshat Karahi, I am having this too!
The gods of Yadgar
Hector has ordered the Goshat Karahi in the 'normal' way: as the gods of Yadgar intended.  Shkoor has already suggested that 'The gods of Yadgar intended it any way you want to eat it.'
The disciples of Hector
Hector was late.  Yes, let me repeat this, Hector was twenty minutes late for the Yadgar rendezvous.  Jonathan arrived twenty seconds before me.  Meanwhile, Mags, with her new techno-phone, had accessed this very Blog and already knew there would be a mystery.  Craig could make little comment, Yvonne was not amused.
Why did we change the clocks?
The sundries were ordered from the bus crossing the Clyde, at least my guests knew the Curry was taken care of.
What is this that stands before me?
A large kilo sized dish of Lamb was presented: just how many portions is this?  Is this for all of us?  It would have sufficed.  Then another dish arrived: the same but on the bone.  Had the gods of Yadgar decided to play a little joke on us?  Three 'portions' on the bone and two off was the order.
The Mushroom Rice, and Boiled Rice arrived intermittently and we were off.  Two  Chapattis for fun were here too.
Hector's first taste of the on-the-bone Goshat Karahi was intense, fulfilling, sensational, worrying: there was a kick, how would  Craig react?
Even Babies grow up: 'I'm a Vindaloo man myself'
(cf Curry-Heute in Nurnberg)
The fact that the Lamb was fork tender impressed Craig greatly on his first Yadgar visit.  Mags was simply getting stuck in to her first on-the-bone experience.  This is a lady who does not normally eat lamb.  Hector was worried.
Communication Breakdown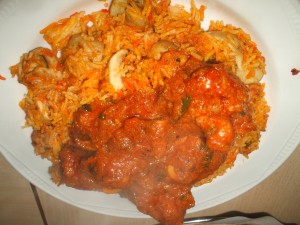 There was this platter of Curry.  It was huge.  Yvonne and Jonathan had to share this?  Now Hector knew that the extra Curry had been ordered, was it included in this mass of food presented?  The off-the-bones were scratching the surface when another plate of Curry arrived. Yes, this was Hector's attempt at ordering the Daily Special.  'Lamb with Sweet Potato' was the official nomenclature.  There was a vegetable.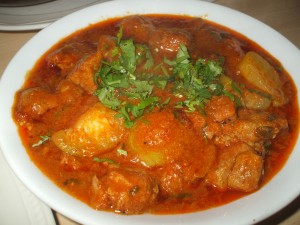 Hector has been to Lagos (Nigeria) and experienced an array of vegetables not normally consumed in Scotland.  Hector did not take to the root vegetable called 'Sweet Potato'.   Today's 'sweet potato' looked more like a fruit than a root.  I thought it was Lime to begin with and was awaiting a mouthful of rind, but this was soft and pleasant.  In the end I accepted there was a 'vegetable' accompanying  the even more  Lamb-on-the-bone.  A visit to KRK on Woodlands Road will be imminent.  More research into non-meat supplements is required.
Could I eat all this?   Of course not!
Meanwhile, back in the clean world
'Complex but not Hot' were the word uttered by Jonathan,  Craig marveled at the experience: he knows Hector does not rant about a venue unless it merits the praise.
Craig, Mags and Hector managed to consume the platter with the bones.  Yvonne and Jonathan did their best.  But it was not good enough!  There was a mass of Curry left.
Mr Sha appeared: oh no, we are letting him down.  We had enough Curry to feed ten, eleven, twelve…
The White Flag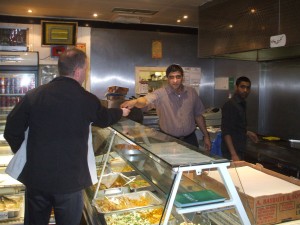 Three take-aways were arranged from the debris we had left.
The Bill
£65 (for five-ish) all the Curry you could eat, and more.
Midnight Curry-Heute
For reasons that are best not Blogged, Hector was able to consume  at home – on the same day – the 'Lamb with Sweet Potato' and yes there was some of the Goshat Karahi and a Mushroom or three in the platter.  The Chapatti did not do too badly either.  A midnight feast in Clydebank: has this town ever had such a meal within the municipal boundaries?