It was a dark and stormy night
Work commitments kept Marg and Hector late so no way was Hector cooking this evening.  A take-away on a night like this would be most people's options – Marg insisted we go out.
Having dismissed all the alternatives, a Curry-Heute became desirable.  Being too dark, too wet, too far…to go into the City and having had enough of the 'only Curry-taste available in Clydebank', Marg agreed that Papa Gill's (2376 Dumbarton Rd, G14 0JJ) was a compromise.
Now Papa Gill's has been on the recommended list since the inception of this Blog.  This is based on too many late night Curries with Jonathan at the Partick outlet.  I did not know until tonight that Neelim, halfway between the two, is also one of the same family group.
The restaurant sits around thirty and not a table cloth in sight – good.  We were the only customers.  The waiter was straight over and let us choose our seat.
Starters or not
Well this means eating the entire Curry is not guaranteed, but Marg desired a night out and so this should ensure  we were not home in thirty minutes.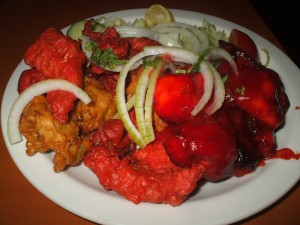 The Chef's Platter for two had all one could desire: Chicken Tikka, Chicken Chat and Mixed Pakora.  For the main course Marg opted for the Lamb Karahi (who has she been eating out with?) and Hector went for the Methi Gosht Garam Masala.  This was almost prophesised in a recent Blog.
Now I have come to accept that a meal at Papa Gill's is not going to be a modest affair.  The Starter was certainly adequate, more than.  On collecting the empty plate the waiter asked if we had enjoyed it.  Ah, the opportunity to share my theory that yes this was so, but  '…usually when the starter is this good, the Curry is disappointing…'
Let's get down to eating some Dry Curry
The menu describes the Garam Masala as ' Cooked dry using spring onions, garlic and coriander leaves sprinkled with garam masala, with a real Punjabi taste.'  The Masala  lived up to its description.  Indeed at first glimpse it looked as if some Palak had strayed on board but this was not so.  (I must return to have the Palak Gosht.)  The accompanying Chapattis were employed to handle the Masala whilst the very tender Lamb was consumed by fork.  How sophisticated.
This was a very good Curry and lived up to what I have had in Partick over the years.  It did miss that extra factor that would put it into my highest bracket.  It is certainly the best Curry I have consumed close to home.
Marg's Lamb Karahi was red and had chunky Onions.  It did look very familiar, like every Curry produced in Clydebank.  Maybe this is how the locals prefer it.  Marg was enjoying her meal despite being similar to her dreaded Dopiaza that she has finally learned to stop ordering.  A doggy-bag was necessary for the last part of her meal.  Hector finished his.  Well it was only a single portion.
Apparently my last visit to the Partick branch was December 19, 2009.  It is sad that I know these things.  This was realised during a lengthy chat with our waiter after the meal.  Of course he was no ordinary 'waiter' but one of the three brothers who run the group.  He assures me that the Curries are all prepared in situ in each of their venues.  He also admits that the outcomes are quite different with preferences expressed.  A refreshing conversation given the shenanigans that some places employ.
Eleven years I have been passing this outlet, apparently.  We will be back the next night work keeps us late, especially if a Chef's Curry becomes available.  Maybe somebody will contact me and let me know if this outlet pursues the Desi option.