What's that coming over the hill?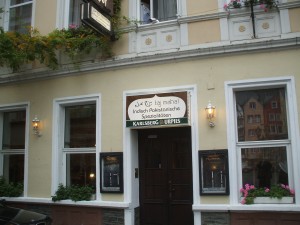 It is Hector and Marg, covered in mud but not as hot and sweaty as we were before cooling down over a glass of Sprudel at the well placed Café between Traben-Trabach and Bernkastel-Kues.
Having spotted the Taj Mahal (Hebegasse 1, 54470, Bernkastel-Kues) earlier this year it is no secret that this was Hector's reason for making the 7km walk.
Arriving just before 14.00 the only customers were just finishing their meal.  We would be the last for this session.  The restaurant is spacious and has Bier vom Fass, but this was not the purpose of the visit so more mineral water was ordered.  Marg had a Mango Lassi which she thoroughly enjoyed.
Marg decided that she would only have starters whilst I completed my ritual Curry-Heute.  Complementary Poppadoms (with Cumin : the good ones) and chutneys were presented.  The middle pot had a red thick paste like spicy sauce which was wonderfully dry.  I complemented the waiter on this.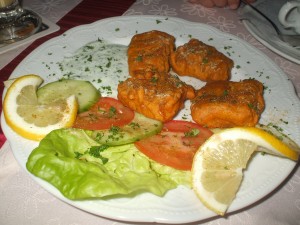 The Chicken-Daal Soup was praised and the Fish Pakora praised even more.  Marg had an excellent experience.
Hector studied the menu which was impressive. The Lamb was called 'Gosht' and so was the Beef, interesting.
The Lamb Karahi won over the Palak Gosht.
It was indeed spicy as was ordered.  The Masala was the normal German thin sauce which had minimal, if any onion present.  There were plenty of largely sliced Onions and Tomatoes accompanying the Lamb. The promise of Herbs on the menu was lost on Hector.  This was a very bland meal.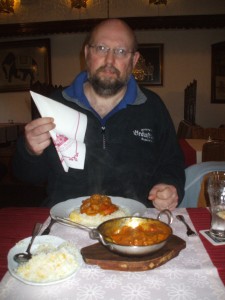 Now Hector has to ask some basic questions
Why does this pass for Curry throughout Deutschland?
Is this what the Germans expect in a Curry?
Do the Chefs generally know how to make a Curry?
Hector suspects that the answer to the last two questions may supply the answer to the first.
There will be no need to return to the Taj Mahal in Bernkastel, unless the Palak Gosht calls me.  One cannot make that a bland meal, surely?