A tasty Lasagne in the middle of the day saw Marg eat her dinner at the Sünner Brauhaus whilst Hector waited for a Curry-Heute.  There are a few Indian restaurants around the Barbarossaplatz area.  The Bombay (Am Weidenbach 21) has been visited a few times due to its proximity to the Reissdorf  Brauhaus.  Tonight something new was called for.
Marg was dropped of at the Ibis and Hector went a hunting.  The Govindam (Roonstrasse 3), a vegetarian restaurant was the intended venue, but had closed.  It was getting late.  Having spotted the Kamsutra (Weyerstrasse 114,  50676, Köln)  on the way there was a speedy return.
'We are closed'
'..but I can offer you one or two take-aways…'
Hector declined and left.  However the boards outside caught my eye.  There were testimonials from various local publications.  The menu looked a bit different.  Prepared to eat humble pie if available, Hector re-entered and the remaining customers told me I could have one or two take-aways.
The waiter realised I was seriously needing a Curry.  I was offered a seat and provided with a menu.  He was willing to go through it with me but I spotted the Spinach.  After Bernkastel this was the logical choice, a safe one.
Gosht Hariyali , 'Luxuriant lamb pieces cooked with lightly spiced spinach'.
What is Methi?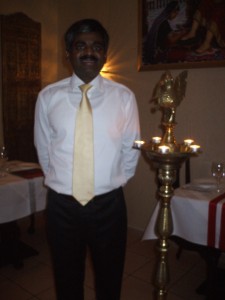 The meal arrived in some ten minutes during which time the waiter and I had quite a chat.  'Methi' is evidently not used by the purveyors of Curry in Deutschland…'Fenugreek' it will have to be in future.    The Curry-Heute calling card can break down barriers.  It also does its job in Deutschland which was the plan.  I was told that the restaurant had been open for 33 months and during that time had become recognised as the most outstanding Indische Restaurant in the Köln -Bonn region.  This was a very proud man.  Hector was in his element too.
Curried Ibis
With a plastic fork Hector had a midnight feast.  Once again the Masala was not Onion rich.  Here we go again.  This was not the Palak Gosht served in Glasgow or Bradford, more of a Curry with strands of Spinach mixed though.  The flavour was not at all instant in revealing itself.  However, halfway through the meal there was certainly a most pleasurable flavour emerging.  Cardamoms, Cinnamon and Cloves were picked out as necessary.  The Salt content was also high, this is a positive feature and one which Dr Stan and Hector have recently realised is common to the Curry we like most.
The Kamasutra will be visited again.