"O' zapft is!"
The Fass has not been in the fridge.  'Warming' the Bier was not necessary.  The temperature in the entry vestibule to Hector's House has not been above zero all week.  The Chaps and Chapattis are assembled to reminisce about how the cooling Pyraser Landbier was so wonderful on a hot summer's day at Hilpoltstein.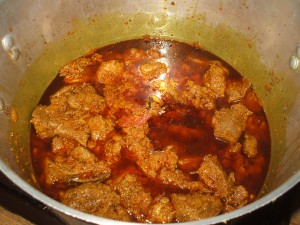 The Preparation
The Aloo-Dudi-Gosht has been maturing for 40 hours.  The adjacent photograph shows the state as of Thursday evening – the Lamb beginning to absorb the magnificence of the two separate blends of spices and herbs: one for the Onions, one for the Meat.   The Vegetables are to be added twenty minutes before serving.  This is not for babies.
The Event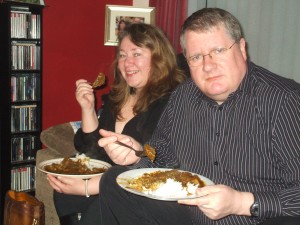 The Rice was rinsed in running water for a full ten minutes, still the starch persisted.  On cooking it looked ok but after rinsing it was evident that a stodgy mess was all that could be expected.  The Rice was kept warm and dry in the oven all afternoon.  Tracey said she likes Rice this way. Tomorrow Hector will go back to KRK (Woodlands Rd) where I get my supplies and hope that this time the shelves are not bare – Basmati please.
The Curry was reheated and Potatoes were added to the pot around the time of the tapping.  It was hoped that they would cook in the heat as the pot cooled.  The Kadu and Okra were then added some fifteen minutes before serving, alas the tactic had not worked.  The Potatoes were still on the hard side – edible but not the level of perfection one strives for.  In a restaurant they would have been sent back.
 Fortunately the Curry itself had worked to perfection.  Half a pint of oil had been previously scraped off the top.  The Masala was thick, the Lamb cooked to perfection.  Not standing on ceremony, Hector led the way and managed to give himself an almost Vegetable Curry since these had floated.  Seconds are the norm and more Lamb was liberated from the pot.  The spiciness was strange.  Hector knows that he put in proportionately less Cayenne than the other Spices and Herbs, yet the heat was creeping up.  Everyone made approving statements.  Dr Stan even managed a double grunt of approval.
'The Vindaloo Man'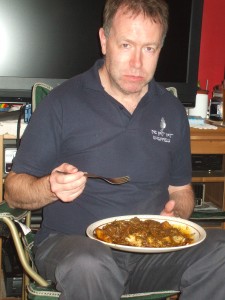 Craig w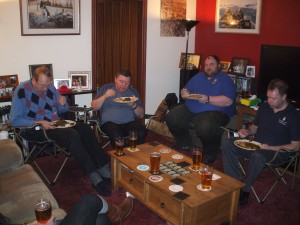 as last to emerge from the kitchen.  There had been strange noises, was he lying on the floor in agony?  Apparently he was wrestling with the Rice spoon.  Craig ate his meal, slowly.  He liked his Curry, and went back for more.  This Curry was certainly not for babies.
Loaves and Fishes
At the end of the meal, and yes Hector's Curry Cohort did eventually stop eating, there was still sufficient for at least two more servings.  Marg may yet get to taste this – and have it served with Basmati!