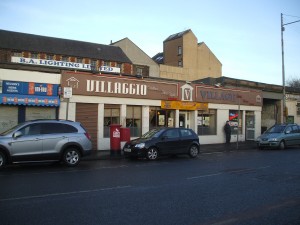 Unbelievably this was Robin's first Village visit, he arrived and waited outside 'The Villagio'. Hector was two minutes early, Mr Boyd and Jonathan were already inside.  Now let the records show that the person who had to travel furthest was there first.  Unusual.  The place kept filling up, Dr Stan was late, Craig later still.  We were an unbelievable ten.  As Howard remarked, not quite enough for the Last Supper, but this was an impressive turnout just the same.  Perhaps this was because today would be the last Saturday we could all be together until the imminent festivities take us away to our various seasonal commitments.
Starters, why?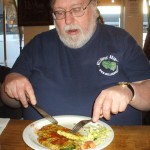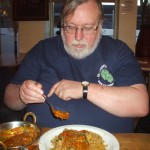 The Chapli Kebab was ordered by Jonathan and Mr Boyd.  There was an inaudible groan; this means it would be a forty five minute wait for the main meals to be served.   Mags consoled herself with a couple of Poppadoms and Onion Chutney.
A Cunning Plan
Dr Stan had contacted Hector earlier in the day to discover if The Village sold their Curry by the kilo: they do not but this is something The Village should consider – it is common in Bradford!
Hector had a solution – let's order an extra dish and share it… so we did.  The famous Village Board with the daily specials was back in operation.  Kofta Egg did not strike a chord but Aloo Gosht certainly did, and it was on-the-bone, perfect.
And it came to pass that eleven meals were ordered for the ten assembled.  Hector and Jonathan had the Lamb Tawa.  Robin, Mags, Dr Stan ad Mr Boyd had Village Lamb Desi Kormas off-the none, Tracey had it on.  Howard ordered the  Lamb Lal Lahori and John had the Chicken version.  Chicken, now who orders Chicken?  All of these are from the Desi section of The Village menu, it was up to Mr Vindaloo himself to break the pattern, Craig ordered Chicken Tikka, the baby food.
Strange sides
The Garlic and Cheese Nan has not been on Hector's radar before, two appeared today.  A Curry with Pizza in effect.  Not for me.  Tracey for the second time in as many weeks struggled to get a cup of tea.  Maybe she should carry a flask.  Various Rice dishes were ordered: Vegetable Rice, Egg Rice, Pilau Rice.
The table began to heave with food.  It did take quite a while to appear, it was amusing how one either had Rice or the main meal, eventually everything was brought, even Mags' entire order.
The Aloo Gosht to supplement the Lamb Tawa was a quality decision.  Why pig out on Starters?  It is more Curry that takes Hector to a level of complete satisfaction.  This time I may have left a grain or two of Rice.
The Bill
Now this may be difficult to believe so take a seat all you readers who think that 'ambience' or a 'tablecloth' is what dining out is all about. Ten people, eleven Curries, plus sundries, plus various soft drinks  :  £107 !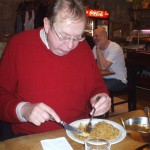 Afterwards
There was a discussion later that Hector was not present to hear.  Which is better – Yadgar or The Village?  The man who has suggested Café Salma was not present either.  Howard summarised the sentiment beautifully: his words are so eloquent: 'When I am at Yadgar I prefer Yadgar, when I am at The Village I prefer The Village."  What about Café Salma?
As is written, that Glasgow has three such outstanding outlets is testimony to the quality available in the city.  I am told that the 'Curry Capital of Britain' title has been regained.
Now where is the next new outstanding Glasgow Curry outlet to be discovered by our happy band of enthusiasts?
A legend performs in Glasgow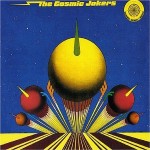 Tonight, Manuel Göttsching the guitarist in The Cosmic Jokers and Ash Ra Tempel made his first ever appearance in Scotland at Stereo (Renfield Lane).  The track 'Galactic Joke' set Hector on his odyssey through the then so called 'Krautrock' leading to his love of Can.  The rest as they say… is written in Biertoday:
(April 2010).