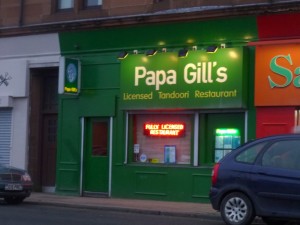 Hector's House is without Marg and refrigeration this evening.  No, putting the food outside in the ice cold West of Scotland weather  is not an option – I am not feeding the local fox.  Papa Gills (2376 Dumbarton Rd, Yoker, Glasgow, G14 0JJ) called once again, there was unfinished business.
The Lamb Saag Punjabi Masala (described as hot and made with a rich and spicy flavoured sauce), the Special Fried Rice and one Buttered Chapatti was what tempted Hector back to this almost local Curry house.
Once again the place was quiet, I was the only customer.  The meal came quickly and the appearance was stunning.  This was another thick, very thick Masala with not too much Spinach and some fresh Coriander draped over the top.  Hector tore in…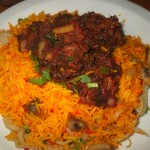 I congratulated the waiter on the dryness of the dish, and spent the next ten minutes or so eating all but a few grains of Rice.
One distinct advantage of being the only person present: when the meal is ready it comes straight to the table – steaming hot, no hanging around waiting for everyone else's meal to arrive.
The Lamb was tender but pink which always puzzles me.  The Spinach did not overwhelm but maybe I was hoping it would.  There was no overwhelming flavour at all.  A good Curry, but nothing sensational.
More snow forecast
If Hector is able to leave for Deutschland on Friday the next Curry-Heute will be in Köln.  If I can track down something as thick and dry as served at Papa Gills this will be reported with enthusiasm.