The Bombay (Am Weidenbach 21, 60676, Köln) is most certainly the first German-Indian restaurant where I had a Curry that actually impressed. This was therefore not a new discovery but a return to the tried and tested. Negotiating the snow in the Barbarossaplatz area Hector trundled up to the venue which is even closer to the Weissbrau micro-brewery than I remembered. The waiter opened the door to greet me having watched me take a photograph from across the street. He knew from the start that this was not a random visit. I was also to be the only customer.
Ente Buna, how could one resist? A Duck Curry is a rarity. The waiting time was spent on the phone to Marg who gave a progress report on the delivery of the new fridge to Hector's House.
'They only had to take the bloody doors off.' (sic) There was also the presentation of a free Popadom with dips. Why do other places charge for these? Excellent.
The Ente Buna arrived with a generous portion of Boiled Rice. Now Hector likes his Curry with minimal Masala. This was superbly dry. The meal included Capsicums but I made no attempt to block these. I did not wish to permit any confusion.
Now after copious quantities of Gluhwein yesterday I am herbed out. I do not know where my tastebuds have gone to. I knew I was eating a spicy meal, I could taste nothing at all. Now on previous visits I have been totally impressed and so I shall put this down to my inadequacy, not the Chef's. I suspect this was a superb meal. The Duck did look strange however. The texture was not like Duck either but it was sublimely tender.  There was not really very much meat in the portion.
There was a brief chat when I gave my calling card. I shall return.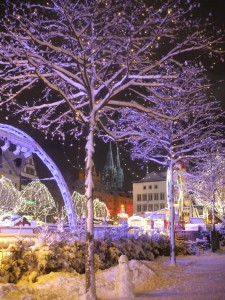 The snow became worse.  Clive and Maggie's 'plane was cancelled so they had the pleasure of our company for another day.  Home tomorrow, hopefully.