Köln to Yadgar, one 'short journey', and well worth it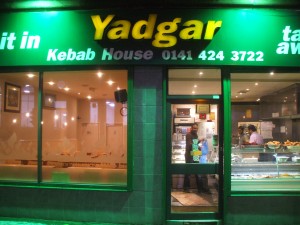 A half hour delay coming back from Köln was better than thousands have endured elsewhere across Europe this weekend.  On collection at Edinburgh Airport there was Curry-Heute on Hector's mind… Marg was hungry too, it had to be Yadgar (148 Calder St, Govanhill, Glasgow, G42 7QP).  There would be plenty of time for Mr Sha, or whoever today's Chef is to prepare the classic Goshat Karahi.  One kilogram was the order, off-the-bone, the logic being we would eat what we could and have the privilege of eating the leftovers at home at a later date.
Glasgow's motorway network can be frustrating, or even the lack of it.  The A8 section is useless and the fact that the entire Glasgow traffic system is reduced to two lanes approaching the Kingston Bridge, Europe's busiest river crossing by road, is simply nonsense.
Marg sat by a radiator, the sundries: two Chapattis and one Mushroom Rice were ordered.  The Curry was of course ready and so the entire meal arrived with great efficiency.  It was one of the other Chefs on this evening.  He came out to reflect in his own genius and shook my hand.
This is Curry eating at extremes.  One knows the mass of Lamb can be eaten until total satisfaction is attained.  The Photo on the right is what we took away.  Hector had no problems tasting this Curry.  Absolutely superb!
Mr Sha appeared, Mr Shkoor Anwar appeared, my the entire staff greeted us.
Marg took the generous offer from Shkoor and had the Punjabi Pink Tea with all the toppings.  Milky tea is just what Marg loves.
What else was on offer?
Hector surveyed the Daily Specials.  An Aloo Chicken was on display along with a what I was told was a Cod Curry.  I need to move in.
Now above the counter are three hand written signs.  Two are translated into English; the third has been a mystery.  Not anymore!  This is Tripe, and deemed not to everyone's taste.   Hector bought Tripe form KRK some years ago and the house took days to recover, never again.  Hector will not be ordering Tripe.