Marg's Legendary Dinner Parties
On the evening of Marg's first ever Dinner party in Clydebank, she famously was last to arrive.  She conceives the moment's answer to the dream and lets Hector do the cooking.
Today is no exception.  There will be a gathering of ageing and aged hockey players assembled in Hector's House this evening, Hector is not invited.
A Chicken Korma and a Vegetable Korma (such indulgence) have been prepared.  I am off for dinner in the City and having worked hard all afternoon, a Curry-Heute is my self-reward.  If the train goes to Central, then it will be The Village; if Charing X, then Café Salma.  How's that for decision making?
Train?  What train?
For absolutely no obvious reason, First Scotrail had no trains running between Singer and Glasgow.  The line was clear, the platform was clear and it was not snowing.  This is simply pathetic and the attitude of the staff leaves much to be commented upon.  Could they give less information?  Would a train run ever again? Do they care?
It was a reliable First Bus that took Hector on the express route to the City and hence the short hop over the 'Squiggly Bridge' to The Village (129 Nelson Street, Tradeston, Glasgow, G5 8DZ).   A new waiter brought a menu as I selected a table.  'No need for that.' as I pointed at The Board: the Aloo Gosht is reliably satisfying.  The on-the-bone version had to be verified.
The Vegetable Rice remains the preferred accompaniment of Hector: it could have been warmer.  The Curry as ever does what a Curry should.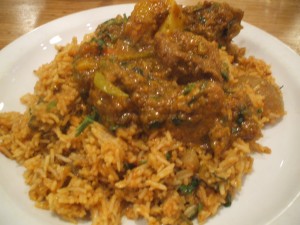 Meanwhile back in Clydebank, Marg was serving sparrow sized portions of Chicken Korma.  Some had taken a second helping.  The Vegetarian had not showed!  I rest my case.
When Hector returned home after a safe time spent at 'The Other Place', the pot was still two thirds full.  However the Legendary Sue-Mac is in town.  We have had Curry in South London when Marg and I stayed over en route to Crawley.  Hector warmed up the remainder and we dined.  The guests were given takeaways, whether they wished them or not.