With Papa Gills to the west and Balbir's and the various Mother India incarnations to the east, the Indian Orchard (315 Dumbarton Rd, Partick, Glasgow, G11 6AL) is easily overlooked.  Perhaps this is why it is well over ten years since Hector's last visit.
April 17, 1999.
We were not intending a Curry-Heute, but St. Louis at Thornwood had not yet reopened after the recent festivities.  'What about that place we went to some time ago?' was Marg's suggestion.  The place in question was the Indian Orchard, the last visit was when Porcupine Tree were playing at Cottiers Theatre.  Hector is astonished at his memory for dates.  We had visited this Curry House previously and had recommended it.
A Restaurant For Two
Three chaps were finishing their meals as we entered.  It is a feature of recent local outings that the venues are so quiet.  We cannot support everywhere.  We asked the waiter to hold the main courses so that we could give our starters time to digest.  This meal had to last more than the usual half hour, tonight was a special event.
Being Marg's day she chose the starter.  Prawn Puri (to share), always a banker.  Marg spotted the Green Herb Chicken, I had not bothered with the Specialities list as the meat on offer was Lamb Tikka.  I was very happy to spot Methi Gosht.  It has been a while since this has featured on a menu that I have encountered.  An Aloo Gobi Sabzi was also ordered for two reasons.  The Special Fried Rice would not guarantee Vegetables and the prices were so low I feared for the portion size.  Two Buttered Chapattis were also ordered; this was to be a banquet.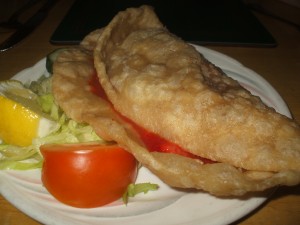 You cannot go wrong with a Prawn Puri.  There was a pleasant kick to the Sweet and Sour Masala.  This is probably as much Sweet and Sour as I can cope with these days.  There was a considerable time between the courses as we asked.  Some takeaways were dispatched during this period.  We were asked if we were ready for our Mains, yes please.  Excellent!
The Methi Gosht had me won before I even tasted it.  Had the Chef been reading this Blog?  The Masala was thick and very dry.  The Lamb was melt in the mouth soft, perfect.  The taste of the Methi was exactly as hoped for.  There was also a slight burnt flavour suggesting Spinach/Saag was also present.
Marg enthused about her Green Herb Chicken.  Ten years ago this may have been Hector's choice too.  The fresh Ginger was to the fore and there was a sufficient 'kick'.
The Aloo Gobi  Sabza of course was Potato and Cauliflower again in a thick, but reddish, Masala.  This would have made a standalone meal.  As I remarked, if/when we reach India, this is probably what we will have to become accustomed to eating.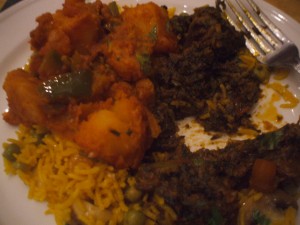 There was no way we could eat all this but there was no disgrace.  The only disgrace is the time that has passed since our last visit.  The Indian Orchard has always been in my mind as a worthy venue.  We shall definitely return.  Howard and Tracey have this virtually on their doorstep, now there is a cue for a comment.
The bill came to £27; this is excellent value for a licensed restaurant with table cloths.
Dessert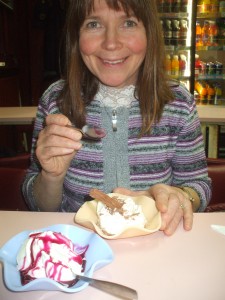 We adjourned to The University Café for the finest Ice-cream in Glasgow.