A minimalist report on a consistently praiseworthy Curry-Heute
It's Friday, it's 17.40, it's….Cafe Salma!
(523 Sauchiehall St, Charing X, Glasgow, G3 7PQ)
Dr Stan was already in situ with the Chutneys and the complementary Popadom.  Hector 'permitted' Dr Stan to have some of 'his' Onion Chutney before another complementary Popadom was presented.  The perfect welcome.
The order was given: Dr Stan clearly does not mind the dreaded Capsicum and so went for the Punjabi Karahi; Hector selected his usual Lahori Karahi.  Both dishes were ordered off-the-bone.  We had the choice.
Dr Stan chose the Vegetable Rice as his accompaniment, Hector for a change, felt that the Aloo Paratha was calling, this proved to be an excellent choice: serendipity…
Hassan was as ever the effect host
A member of staff is missing; there is an advert in the window for new recruits.  More will be reported when the facts are gathered.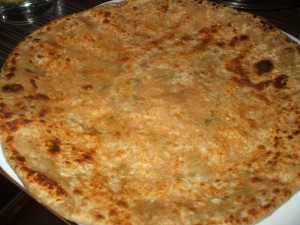 The Aloo Paratha was piping hot on delivery, if only this moment could last.  The oh-too-hot-to-touch enjoyment of a Paratha dipped in the Masala is a time to savour.  Hector commented that this might be as enjoyable as the Curry itself.  The thick Masala, the fresh Ginger, the tender Lamb.  This is why we are here.  Who needs a table cloth?
The consistency is not just in the meal but the entire Café Salma experience.  One is made welcome from the moment on arrives to the time of departure.  The food is never disappointing: the norm is excellent.  Hector should be on commission.  How come the fabled 'Herald' writers get to do this for free? (allegedly).
Dr Stan as ever said little.  His continued participation in the ritual says everything.
Dessert
Tonight there was none.  Hector ate his entire Paratha and Lahori Karahi and was fully satisfied.  Dr Stan got there in the end.
Later on…  'The Place…'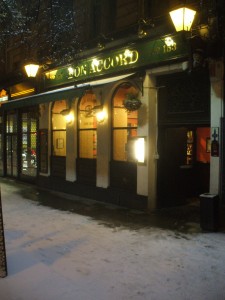 Satisfaction was further enhanced when a 'careless' Internet comment led to Paul of the Bon Accord supplying another New Year Bier.
James Sanderson, one of 'The Immortals' : My mother has just died, she died last week too… (sic)

As the various cast members passed through the Bon Accord this evening there was confirmation of The Village Curry-Heute tomorrow afternoon.  There were dissenting voices.  Dr Stan has CAMRA activities in the city.  John announced that he was busy only to retract this when the final line up was announced.  So missing persons, please note…
Of course , other participants are welcome at late notice, 'aye right'.