Hot Nan Donner
As Dr Stan missed out on the last Village (129 Nelson St, Tradeston, Glasgow, G5 8DZ) visit he was very happy to make this the Friday evening rendezvous.  A shared large Vegetable Rice was suggested by Hector.  Dr Stan chose a Keema Nan for us to share.  Hector ordered the Lamb Lal Lahori and Dr Stan the lamb Tawa, both dishes off-the-bone.
The Nan was generous in size but the stuffing was indeed strange: Donner Kebab meat is what appeared to be inserted.
Small 'London' Portions?
The Lal Lahori usually has a distinct tomato content, but not this evening.  Hector felt that the portion size was also a bit on the small side so I asked the waiter if this was deliberate.  He speculated that perhaps due to the rise in VAT this might be the case but he did return later to state that everything was normal as far as they were concerned.  Maybe I was just hungry?  Or do the photographs of the content bear comparison?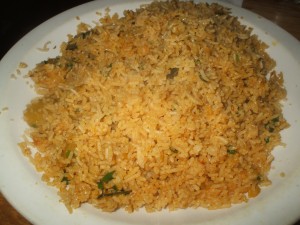 I have always felt that if you order on-the-bone you get a more intense flavour but at The Village you definitely get less Curry.  This evening the Curry was disappearing very quickly even with the volume of the Nan as distraction and accompaniment.   Had we been at Café Salma I may have suggested we have 'Dessert' but Dr Stan appeared to be satisfied with what was before him.  He did speculate as to the difference between the Tawa and the Village Desi Korma.  The difference is subtle; perhaps the latter has more Citrus.
The only thing better than wonderful Curry is more wonderful Curry.  The Village could adopt the system of some Bradford outlets where they offer the dishes by weight, as does Yadgar up the road.
The modest bill was settled and we headed off to the Bon Accord to await the arrival of Lord Clive of Crawley and his fair maiden, Maggie.