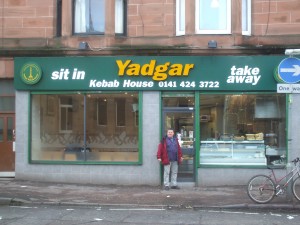 When Lord Clive was last in Glasgow there was an expression of disappointment when he did not manage out for a Glasgow Curry.  During the week I emailed Mr Shkoor Anwar owner of The Yadgar Kebab House (148 Calder St, Govanhill, Glasgow, G42 7QP) to establish how early they could provide what Hector believes to be the finest Curry served in the city.  The reply was 13.00.  This was perfect; we could go for a Curry-Heute!
The meal was arranged for 13.30, 1kg of Goshat Karahi (off-the-bone) for three of us to share, and a single portion of baby-mild Goshat Karahi for Maggie.  Four Mushroom Rice portions were also ordered.
Marg drove us to the Southside and we were greeted with a smile of recognition on entry.  I am poor at establishing names.  Our Curry was being completed through the back.  The Complementary Salad appeared after a couple of minutes and only a few moments more had passed when the main event began.  Maggie's mild bowl was generous in portion size.  Nothing like a London portion.  Even this mild, Maggie found it demanding, but when she tried ours…
1kg of the finest Curry in Glasgow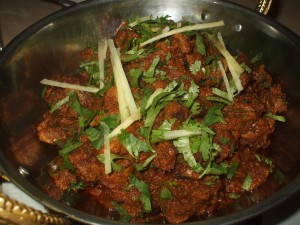 The Curry looked too good to touch.  It has been prepared in the dry 'Bradford' style.  The Masala is minimal this exactly how Hector likes his Curry.  The taste is unique – how does one describe a taste?  There is an ingredient, or blend of ingredients which I cannot fathom.  Marg thinks I should offer to spend a day with the Chefs and discover the secret.  That sounds like a wonderful idea: I wonder if this could be possible.
Clive started us off and took slightly less than one would expect a portion size to be.  Marg followed and Hector took a generous helping.  The Karahi was still half full.  Clive was of course impressed.  Marg did find it a bit on the hot side for her, but she does like the way the Lamb is cut in smaller pieces than is the norm in Scotland.  This is indeed how Lamb is served in Bradford. The Mushroom Rice is the perfect accompaniment; it too has its own Spice content.  I helped myself to some more and realised that the three of us were not going to finish this.  Clive did his best but there was little left to takeaway, shame.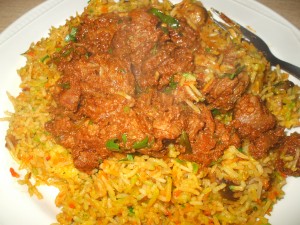 I was relating how Mr Sha, the Chef, usually comes out to ensure that the enjoyment of his sensational Curry is up to the expected level: who appears but the man himself!  Perfect timing.  Congratulations are always in order.  I had to tell him that my guests were from another land and had come all the way to experience his culinary skills.
Pink Tea
Marg likes her sweets.  The Kashmiri tea was ordered for the ladies and was brought at the end of the meal. Peter was out for his Sunday constitutional and joined us. Mr Anwar (senior) came out of the kitchen and introductions were made.    The photograph had to be taken.  This is the owner of the source of arguably the finest Curry served in Glasgow.  This was a proud moment for Hector.