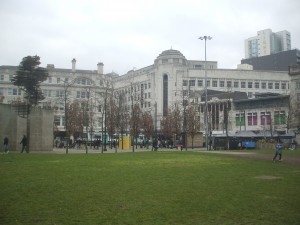 This is Hector's first visit to Manchester since 1996 when for reasons best not gone into a Spanish Visa was required. I have to the best of my awareness never set foot in the city centre. The Arndale Centre and Piccadilly were names known to me. The Curry Mile had been mentioned by others, not least of all by Shkoor Anwar of Yadgar (148 Calder St, Govanhill, Glasgow, G42 7QP) fame. Recent research led Hector to conclude that the Curry Mile may have had its day. It sounds like Glasgow's Sauchiehall St where the established venues turn out the same tired dishes with tweaks to meet the ever expanding 'variations' on the menu. These days Hector seeks authentic dishes: The Desi is a magic word to read.
Manchester's Northern Quarter lies adjacent to the Arndale Centre. It is a collection of inner city streets, some of which amount to no more than lanes. It is within this small area that numerous curry cafes have sprung up in recent years. The not to be trusted Google Maps had given me a list of places some of which may or may not actually sell Curry. Opening times suggested that many of these places would not be open in the evening, or certainly late. Saturday lunch would be the time for exploration. The Curry Wanderlust would be in full inspection mode. Anything could happen in the next 24 hours.
It was on the periphery of this area that Hector selected his downmarket hotel for this stay: The Merchants Hotel (Back Piccadilly). Having checked in at 21.00, it was time to go and meet the walking wounded who had spent the last two days at The Manchester Winter Beerfest and touring the best pubs of Manchester.
Leaving the Bar Fringe I found myself on Thomas St outside the Yadgar Cafe (71 Thomas St, Manchester, MN4 1ES), and not High Street as many sources say. It was closed. This would be an ironic choice of first stop, maybe tomorrow. The map in hand was difficult to see in the dimly lit streets. The lack of scale is always frustrating, things tend to be closer on the ground than Hector senses from the map. Hunter's BBQ (94 High St, Manchester, M4 1EF) was the only place open at midnight. It was on the list but did not tempt me in. I decided that an early night would lead to a raging appetite by noon the next day. No way would the breakfast at the Merchant's Hotel be a consideration.
Saturday lunch #1 : Al Faisal
With map in hand and daylight being a distinct aid to navigation Hector set out to explore the Northern Quarter once again. Tibb St and Turner St appeared to the focal points of my bearings. I found the Yadgar Cafe once again with ease. The shutters were up but there appeared to be nobody at home. There were no clues as to when they might open.
Kabana (Turner St, Manchester M4 1FP) was the first choice of all in the research. There was no sign of life here at all.  It was reportedly closed on a Saturday, sadly it is.  Al Faisal (54 Thomas St, Manchester, M4 1EG) was a dozen paces away and was clearly open and doing good business. Al Faisal is a classic cafe set up: seating a maximum of about 20+ at six tables fixed to the floor and all the main activity in a kitchen up a stair on the far corner from the door. Lamb Karahi was on offer, this would be a fine moment, the first Manchester Curry-Heute, literally.
The curries were under cover in heated trays, the chap spooned a fairly generous helping on to the plate. A Chapatti is what Hector had in mind as the accompaniment. The chap offered me two, two it was. I sat down, my Curry was brought to me at the table with a bottle of Sparkling Water and a glass. No cutlery, fine, but no napkin, not so fine. Four other diners kept me company. A tall elegant gentleman resplendent in earphones which he wore throughout his visit was obviously a regular. Another chap just sat and ate. A couple ate voraciously and ordered more as a takeaway (for 'Doris') which they were evidently going to collect later. My Chapattis arrived and the young waiter brought me cutlery wrapped in a napkin, great. I resolved not to use the cutlery. This was Hector 'blending in', just another one of the locals.
The Lamb Karahi looked like a stew in many ways, but it was in a very rich Masala and was distinctly oily. It was 11.30, the taste buds had hardly woken up but what I have described previously as 'the old fashioned curry taste' was coming through. Hector was in his element.'
Two Chapattis turned out to be ideal, I did not wish Rice at this stage, I was saving myself.
Whilst I was in full pleasure mode, a Mercedes pulled up outside and the driver, a Scouser, entered and took away a flat pack which did not look like any food I know. Hector could not help but hear him say that he would be back the next week, but for what?
A different chap behind the counter took my cash: £6.10. A fair price for a very passable Curry in a not unpleasant surrounding. One would have no hesitation in recommending this outlet.
Ramble On
As there was no guarantee that a Saturday night Curry in Manchester would come to pass, Hector's strategy was to have a second lunch. This is unheard of in the annals of Hector's Curry eating exploits. I had told the others I would join them when I was ready to do so. This was not a Tonto Tour and so I could do as I pleased. I was doing so.
I was losing count of the number of Curry Cafes in the Northern Quarter as I walked out to the Arndale Centre and walked back into the City of Manchester.
Saturday lunch #2 : This & That
Hector's research had revealed that This & That (3 Soap St, Manchester, M4 1EW) was another must-visit Curry Cafe.   Whilst I continued my brisk walk to hopefully digest Curry-Heute #1, I decided to hunt down Soap St and hopefully This & That. I was in the neighbourhood, this was not in doubt. Soap St never appeared, Turner St kept changing direction, what was High St doing here? With a geometric precision that another obsessive, Captain Queeg, would be proud of, Hector found Soap St. There was nothing there. I walked on. There was no hope in my heart, sorry, wrong city.
Ah, Soap St!  I could only see one end of Soap St, it became a narrow lane within 20 metres of its start, where does it go? Like a scene from a very bad movie I started walking into the abyss. Past the broken glass, there was a sharp turn to the right, there was a sign: This & That, success.
I looked in, an old man was eating. It is open! I walked on, still far too early for lunch #2. It was now all about choosing the right moment to strike.
It was only about 12.20 when I took the plunge. There was a very welcoming atmosphere in the most backstreet venue I have ever entered. One other customer was eating, by the time I left the place was filling up. The locals certainly know about This & That.
Three Curries with Rice is how they advertise themselves, and for not very much money. The Curries were on display, I acted the innocent and asked what they were. I had already selected my choices. The waiter/server/Chef stated that all were 'mild' except for the one on the near left. This was Lamb on-the-bone. It looked very much like a Lamb Stew, it was. Whilst he was describing the Curries he filled a plate with Rice. Here we go. He heaped on a generous helping of the Lamb.  Saag Gosht was at the diagonal to the Lamb Curry. On it went, I had to get him to put on even less. My reward for choosing only two Curries was another shovel full of the Lamb. I sat down, how on Earth am I going to eat all this. Had my strategy backfired?  I paid, there was change from £5.
Hector took his time. The Lamb was Lamb off-the-bone accompanied by two Lamb Chops on-the-bone. This was most satisfying. The Saag Gosht was awful! The meat content was minimal. The Spinach was thick, wet and I suspect undercooked. This would have to be the sacrifice to overcome the sense of gluttony. I concentrated on the Lamb. The Chop which was hanging over the edge of the plate was now stone cold. The place was cold. They had not been opened that long.
A sign on a pillar confirmed that This & That are now open from 11.00 to 20.00 on a Friday and a Saturday. This place is a gem, Robin told me later that he has known about it for years. It is not the sort of place you would go out to for a party, but for those in the City of Manchester this is a remarkable outlet. It is a two minute walk from the Arndale Centre.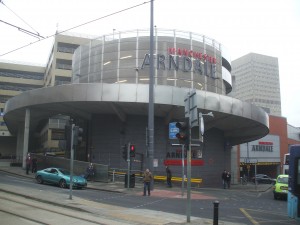 I returned my plate to the counter. I had not disgraced myself in what I had left or morally in what I had eaten overall. This was a good base for what was to come in the rest of the day.
The Grove in Huddersfield is the whole reason why I was down in Manchester. I boarded the train at Piccadilly, the Chaps were all present. Bier Today will no doubt post the remains of the day. However, there was to be another Curry-Heute…
No, no Mo Mo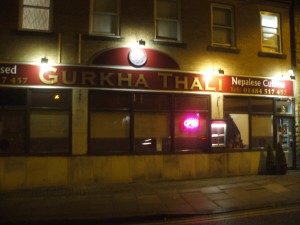 An afternoon in The Grove featuring Judith and John, the locals we met last year, plus a guest appearance by Mr Holden was a thoroughly enjoyable experience.   The 'C' word was mentioned – the companions of Hector know The Rule.  Jonathan did some research on his HTC and established that there was a Curry House, Nawaab (33-35 Westgate, Huddersfield HD1 1NY) near the station.  As the advance party Jonathan then informed us that they could not take us for another twenty minutes and so we had a table in the adjacent Gurkha Thali (1 Cherry Tree Centre Half Moon St, Huddersfield, HD1 2JD).  This was a Nepalese restaurant.
Dr Stan, Jonathan, Hector and Robin took our seat next to the bar area.  The place was quite full.  Complementary Popadoms and Chutneys were presented and the orders given.  We established the price of Mineral Water so as to avoid any misunderstandings later.  £2.35 for a 75ml bottle at restaurant prices seemed good.  Indeed the prices on the menu all seemed favourable.
There was an order for Mo Mo which I am assured was Mince Lamb Dumplings.  We shall never know because after an age three plates of Starters were brought: a Mixed Vegetable Platter, a bowl of Spicy (Tandoori?) Beef strips and what looked like a Sikh Kebab.  There was no Mo Mo.  There was also an apology for the late arrival and a declaration that the Starters would be free.  As I had not ordered a Starter I was paying little attention.  Apparently Robin had not either but he took care of most of the Vegetable Platter.
People came and went.  There was a wait.  We asked for a progress report.  We were promised our Mains soon.
Robin became anxious, he hates waiting this long.  He famously walked out of a restaurant in Aberdeen when as the only customers we had to wait an age.  Robin left.
I told the staff that they could cancel the Chicken Biryani and accompanying Gurkhali Nan (Cheese and garlic).  'He had to catch a train': this was true.  We had now missed our preferred train back to Manchester.
We waited, more promises
Now this is when Jonathan's eloquence comes to the fore.  He knows exactly which words to choose and how loud to pitch it.  No scene is made but anyone paying attention will know that all is not well.  I had looked out a ten pound note to cover what I felt we had consumed so far.  We were on the cusp of departing when the waiter pointed to the hatch and said our food was ready.
Still we waited
Dr Stan had ordered Lamb Karahi.  He described as being 'Stew like, pleasant enough, but not in the same league….'.  Jonathan's Chicken Dansak looked as if the Chicken was fraying, was it Halal?  Halal Chicken does not do this unless it is cooked to death.  Jonathan ate his plate of Chicken in Spicy Gravy and said it tasted fine.
Curry-Heute #3
Hector had ordered the Hariyo Macha.  This was Monkfish in a Broccoli Sauce.  I wanted something different.  I needed something not too heavy.  I had never eaten Monkfish before.  When it arrived my heart sank: a green soup with small lumps.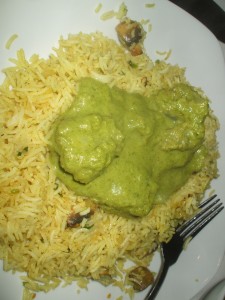 The 'Fish' was reminiscent of Prawn.  'Poor man's Lobster' is how other sources describe it.  I played 'spot the Mushroom' with the Rice'.  The dish was not unpleasant, it was just bland.
Time for The Bill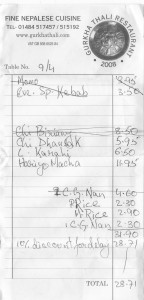 Those of you who are still awake will realise we were promised Free Starters, Robin had walked, and there had been many complaints about the delay in serving.  'Half price' said the waiter as he presented us with this very bill.  This was deemed to be a fair amount.
We shall not be back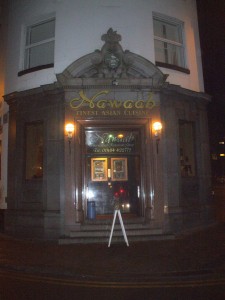 Next time we will try Nawaab, where a twenty minute wait for a table will pass more quickly than the age we spent in the Gurkha Thali.
Update:
As observed at the end of 2012, the Gurkha Thali is no more.