Just another Saturday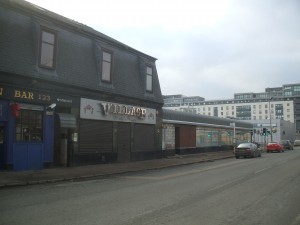 The hardcore five were assembled around 3pm for the ritual Saturday afternoon Curry-Heute at The Village (129 Nelson St, Tradeston, Glasgow, G5 8DZ).
Hector sat for a few agonising minutes trying to persuade himself that a Biryani was to be the dish of the day.  He even looked at the Fish options; it is a long time since Fish appeared on the Specials Board as a main course.  In the end I fell into the trap, the Desi menu is just too tempting.
In the round robin of ordering: Tracey kicked off with Village Lamb Desi Korma on-the-bone (hot), Howard the Aloo Gosht on-the-bone, Hector the Village Lamb Desi Korma (hot) off-the-bone, Yvonne the Village Lamb Desi Korma off-the-bone and Craig a Lamb Tikka Pardesi.  Craig went for something different!
The Village is normally busy over lunchtime any day of the week,  Our 3pm time-slot appears to be becoming more popular each time we visit.  There were few empty seats when we arrived, only one couple remained when we left an hour or so later.
Better organisation please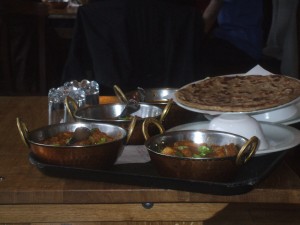 The meals arrived in no particular order.  A lack of order is a criticism that they should take on board.  Why do some dishes arrive up to five minutes before their near identical counterpart?
Worth the wait
As habitual Village visitors, there is no need for anyone to praise the quality of the food.  We know what we like, and we like what we know. I had a Chapatti as an extra to accompany the Vegetable Rice, this proved to be the perfect accompaniment.  The portion was back to the norm, so maybe I was given too small a portion on the last visit after all.
Yvonne had not asked for hers to be 'hot' but it was.  The Chaps with the extra Chillies on board knew we had something special.  The Curry was as superb as ever.  The Tawa is similar, on today's performance I would say that the Tawa has the more Citrus. (Now I shall have to go back through every Village Blog and make sure this is not a contradiction).  The Desi Korma has to be the signature dish of the Village.
Howard enthused about his Aloo Gosht.  That this is his second consecutive order for this dish speaks volumes.
Craig's Pardesi looked very dry, very mean.  Hector take note, this is looking more 'Bradford' than any dish I have witnessed in The Village.  We were all permitted to take a taste, it was 'hot', is Craig pretending to be a baby?  Perhaps he is 'Mr Vindaloo'?
The Bill
£48 for five diners.  This is why we can afford to eat out as often as we do.
The Karahi Palace
Along the road from The Village is a Curry takeaway/Café.  Their website is progressing.  Is it time to take this place seriously?