The Halal Kebab House (164 Albert Drive, Glasgow, G41 2N6) is one of many takeaway premises in this most ethnically Asian part of the city.  Students and taxi drivers are given 10% and 20% discounts, respectively.
The normal Saturday ritual Curry outing with the Friends of Hector has been disturbed in recent weeks.  Today, Hector took the opportunity of checking out a well established Curry Café on Glasgow's South-Side.
There are four take-away outlets within a few blocks of each other all competing on the same front: Pizza-Kebabs-Curry.  Only two appear to have modest seating areas and the Halal Kebab House with three tables looked the most welcoming.
On entering I studied what was on display under the glass counter.  The menu suggested The Chef's Desi Specials were available in Meat, Vegetable or Daal on a daily basis.  I saw no Lamb and so I asked.
'This is my first time here, so …'
'Thank you for coming' was the amiable reply from the young chap behind the counter.'
I was given more time to peruse and then I plumped for a Lamb Desi accompanied by the fine looking Potato and Cauliflower dish on display.  Two Chapattis seemed to be in keeping with the ambience.
I sat at the window, the opposite end of the room from three elderly gentlemen resplendent in costumes more fitting to warmer climes. There was a constant procession of locals coming in for Pizza and kebabs – few were ordering Curry.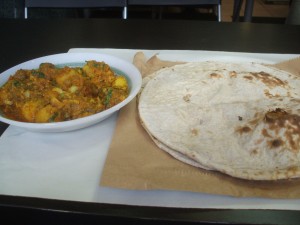 A chap I had not seen brought a piece of paper, my table setting.  A plate of Lamb, Potato and Cauliflower was soon presented with two very worthy Chapattis.  At 50p each this was superb.  Why in upmarket restaurants are Chapattis so expensive, so small and so thin?
Hector dipped a piece of Chapatti into the very welcoming Curry – gosh – the classic Desi experience.  This is so far from the 'Two Pot' restaurant system one wonders why people still frequent them.  OK, I do too.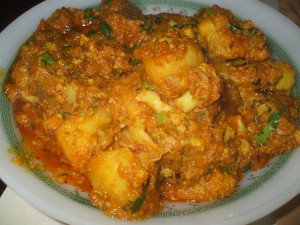 The oil was to the fore but by no means excessive as I had experienced elsewhere recently.  The quantity was elegantly sufficient.  The combination of the Lamb and the Vegetables was perfection.  There is something very satisfying about finding somewhere new… somewhere one intrinsically knows one shall return to…
Sadly, such outlets are excellent for the passer by or indeed the local seeking a take-away; one could not envisage a night out at such a venue.  On leaving I gave Hector's calling card parted with £8. I was asked if I had enjoyed my meal.  The chap sounded genuinely interested.
If only the North-West of our fair city provided such quality.