Severinstrasse – the new Köln playgound?
The new-old Reissdorf Haus is the attraction that took us this far South. Last night Hector popped into the Indian Curry Basmati House (Severinstrasse 40, 50678, Köln)  to pick up a menu.  A passing Doris said something to which Hector was oblivious but Marg realised that she was talking to me.  'It is highly recommended.' is what she was saying.
The planned lunch at Kamasutra was belayed.  In the end it was after 16.00 when we made it via a quick stop at the Mühlen House and a couple of coffee shops.
The Indian Curry Basmati House is a café style restaurant with an open kitchen at the entrance and another closed kitchen at the back.  It seats about 30 people.  Trade was continuous during our visit.
The Lamm Balti was the only dish which did not include Paprika and did include their 'Scharf' Masala.  All meals come with Basmati Rice so at €8 this sounded good value.  Marg was not in the mood for Curry on three consecutive days and so settled for the Pakora.
The Pakora looked 'Onion Bhaji' like, two large pieces for €1.50.  The Lamm Balti arrived with the Rice on one side of the plate.  The portion of Curry and Rice was generous.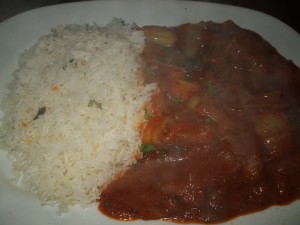 The first mouthful revealed a pleasant and familiar taste – Cinnamon.  The Cloves mixed in with the Rice combined with the Cinnamon to give a very aromatic flavour to the entire dish.  The pieces of Lamb were large and cut easily with the fork.  The meat was tender and definitely Lamb.  The staff expressed great enthusiasm when presented with the Curry-Heute calling card.
Until September 18?