A Friday night treat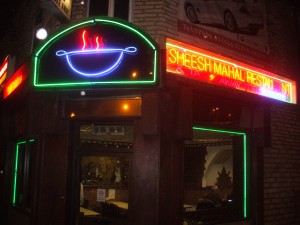 Until tonight I never knew that the Sheesh Mahal (6 St. Thomas's Rd, Bradford BD1 2RW) existed. Now I do and it goes straight in to the recommendations list and I am led to believe deserves to take the place of The International on the Curry-Heute Homepage. It is that good!
Mr Holden drew a map to instruct us where to alight from the 662 bus from Saltaire. I phoned to see what time they closed: 'Five o'clock' (am) was the reply. We are on.
Hector had made a dash to Glasgow Central to catch the Carlisle train connecting with the train towards Leeds. The Ribblehead Viaduct is the highlight of this train journey, useless in the dark. There is always Sunday.
Jonathan, Dr Stan and Hector left Ricky at the Bradford Beerfest and arrived in pouring rain at the Sheesh Mahal. This is another Curry Cafe, no ceremony here. Indeed the building sited just off the main road has another Curry House next door with a taxi office above. This must be the perfect combination for people out late. One wonders what the food is like next door and how the reputation of the Sheesh Mahal impinges on their business.
Menus were brought
Dr Stan chose Keema Palak, Jonathan the Keema Prawn. We had been advised where to look on the menu for the best dishes, however there was the option of asking for whatever one desired, clearly the way ahead.
Our waiter, Omar, asked me what I was looking for.
Lamb, with lots of Herbs, Coriander, Methi and minimal Masala. This was written down. Omar returned a few moments later: Do you wish that on-the-bone or off?  Wonderful! You will be famous. –  I told hum.
This creation became instantly known as Omar's Curry, it should be on the menu.
The Chaps had Starters, Jonathan a Pakora and Dr Stan a Seekh Kebab. An extra plate of Onions in batter, not quite a Bhaji was also issued. I did nibble on some of these but was determined to keep the appetite intact.
The Curry arrived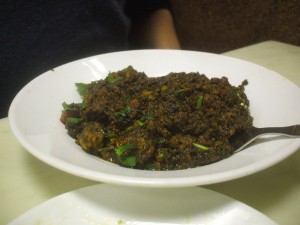 Bradford portions are not as large as Glasgow ones, are they anywhere? Still, they are always filling. Jonathan was about to get stuck in to his Nan when Dr Stan and I were issued with three Chapattis each, the latter inclusive.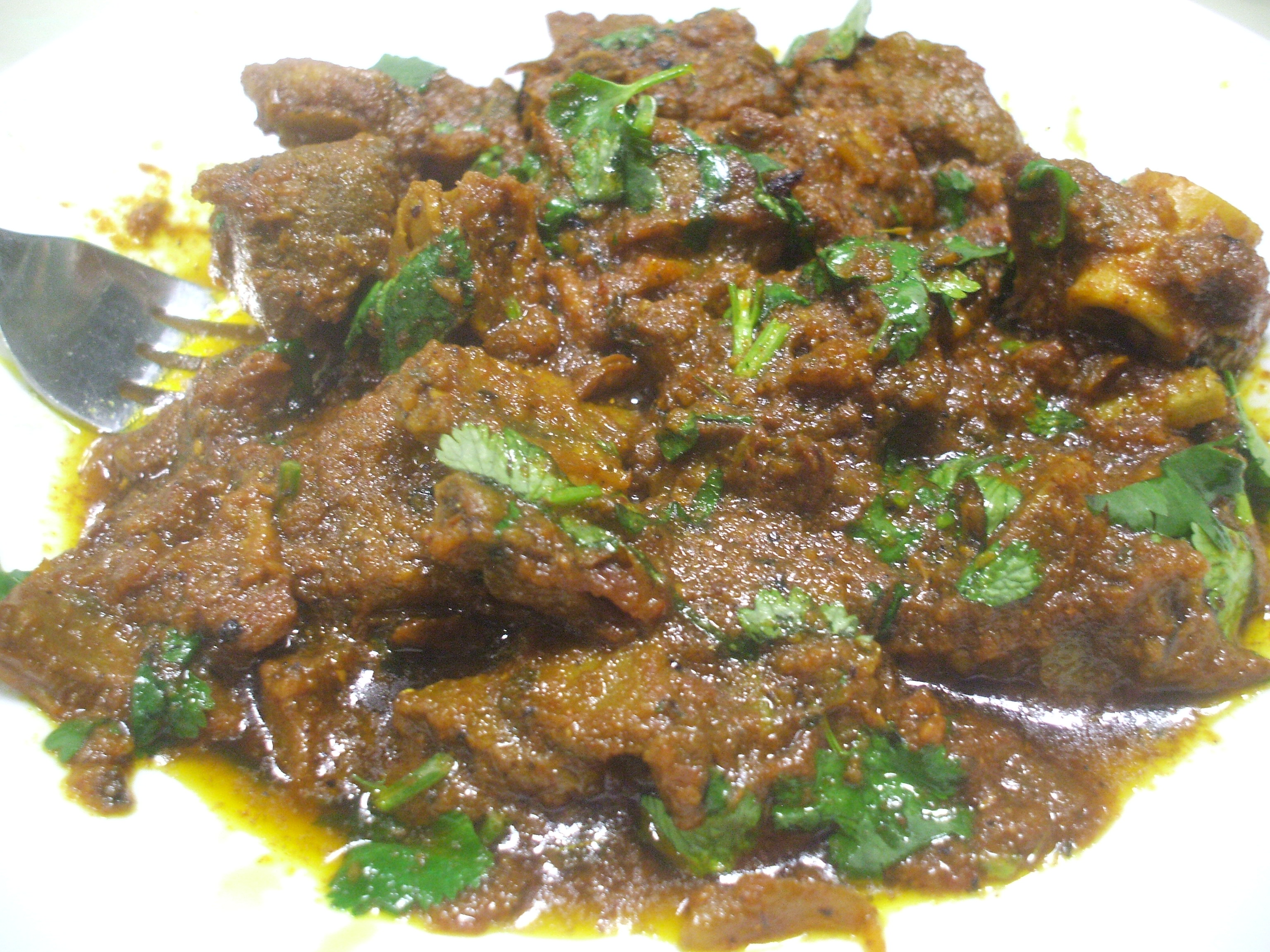 Sheer Pleasure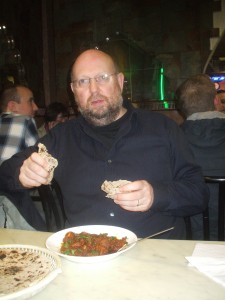 Hector tore a Chapatti in half, he tentatively dipped it into what little Masala there was and thought, gosh! With a larger piece of Chapatti he scooped up some of the Meat ………….. absolutely magnificent! The thick oily warmth of the Lamb and Masala wrapped itself around the tongue, this is just the way Hector likes his Curry.  Sucking the meat off the bones, fun too.  I was provided with a bowl for my bone detritus.  Just how well were we being looked after?
*
There was not much talking and lots of eating in the next few minutes. Jonathan and Dr Stan were thoroughly impressed by their choices. We agreed that our Curry had a high salt content. This is something Dr Stan and I have realised is common to our favourite venues.
Hector has done well in the last week, the Goshat Karahi at Yadgar (Glasgow), the Kofta at Mother India's Cafe and now tonight. Indeed, this could well have been the best Curry-Week of my life. It is fitting that a Bradford Curry House should feature in this Curry extravaganza.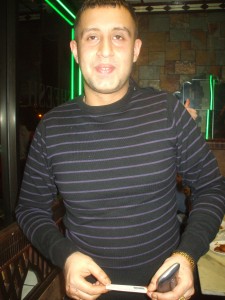 Money did change hands
The bill was under £24. We paid this standing up as a large group had arrived and our table was the obvious place for them to sit. I gave Omar my card on departure, he was interested in the Blog.
 Back to the Hilton, well to be more correct, time for Hector to check in. With a deal like we have this weekend, just how often can we get down here?
Could Yorkshire become the new Germany?