Jonathan and Dr Stan took advantage of our Hilton Hotel deal, again it was Ricky who found this, and went down for breakfast. Hector had other things on his mind. A noon Curry-Heute at Kashmir (27 Morley St, Bradford BD7 1AG ) was what his plan was to start the day running.
I did check the other premises around Great Horton Rd and Morley St to see where else was open, just in case a Sunday 'breakfast' was required. The Lahore (52 Great Horton Rd, Bradford, BD7 1AL) was open but told me that normally they would be open early on a Sunday but they had a wedding party booked. It was a bit posh looking for Bradford.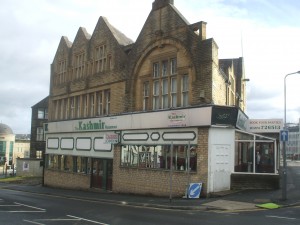 The Kashmir is always open, I have eaten more Bradford Curry here than anywhere else in this city. That they are one of the oldest Curry Houses in Bradford may have something to do with this. I realise that I have been eating here now for fifteen years.
The downstairs room is is the day room, there are about half a dozen others already in place. I am not alone. The waiter comes and asks if I want a menu. I took it and decided to select from the right side of the page for a change: Meat Karahi. Now there is a surprise, but my normal selection is a Dry Curry from the other side.
Rice or Chapattis come inclusive.  I decided on Rice, I was – Chapattied – out This turned out not to be a wise decision. It was plain Basmati Rice, I prefer more interesting Vegetables in my Rice. The lack of Masala makes Rice a strange choice. Had I made a serious mistake?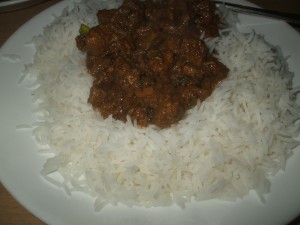 The meal came in minutes, with the volume they sell this must make the job simple. The Curry was fine. Sadly that is all I can say about it on this visit. The Curry from the night before was still in the forefront of my mind. I was not doing the meal justice and the Rice was killing it. I should have known better.
I shall be back and I know I will enjoy another superb lunch at Kashmir, however, evenings will be spent at….
The staff were interested in my calling card..I explained that I am from Glasgow and that I was making a Curry sojourn in Bradford. One chap mentioned Pollokshields, I mentioned Yadgar, he claimed to know it. They asked if I worked there, this is a challenge I have yet to meet.