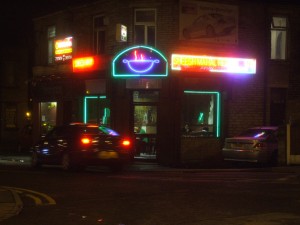 There were a few trains and a few Biers as Dr Stan, Jonathan and Hector did the Yorkshire legs of the Ale Trail. When we returned to Bradford the others went to bed. Jonathan had sneaked in a Chinese Buffet in Huddersfield, I was surprised that Dr Stan did not join Ricky and his friend, 'fresh' from their stint at the Bradford Beer Festival. Ricky had texted me to say that he wanted a Curry at the Sheesh Mahal (6 St. Thomas's Rd, Bradford, BD1 2RW) around midnight.
We were given the table at the door. Omar was straight over: 'I have been on your website! He now knows I cheat a bit with the dates of posting. How could I possibly make the posts minutes after I eat the meal?
The friend of Ricky aka ' Mr Daft', ordered a strange Chicken with Fruit dish. Ricky a Keema Kerala and I was basically told what I was having. No discussion was required. Could they impress me as much again? There was discussion about the number of Chapattis, the others ordered Roti.
The Breads are inclusive in the price of the Curry.
Ricky demanded Poppadoms and also ordered a Seekh Kebab and 'Fred' ordered a Bahji like pancake. As no take away menu was available I am somewhat in the dark. The mysterious Onions in Batter arrived, apparently this is the norm.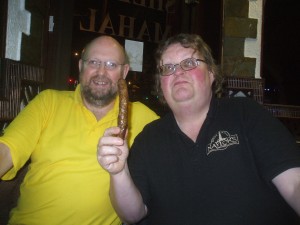 I did not have to wait very long for my indulgence to recommence. The meat was in smaller pieces tonight. There was certainly enough of it despite having to keep pulling slivers of bone from my mouth. The taste was not as overwhelming as last night, but I have had a long day and a previous Curry.  If I was a Bradford resident I would probably live here. Given the level of banter between Ricky and the staff, I think Ricky does. Am I not glad that Glasgow has places on this level to compete? The Sheesh Mahal is now firmly on my radar. I shall be telling the world, if they wish to listen. Oh, in some ways I just have.
We had to ask Omar what he had given me for the last two nights – as written on the menu – else the next time I may not get what I want. 'Meat Karahi –  was the inevitable response