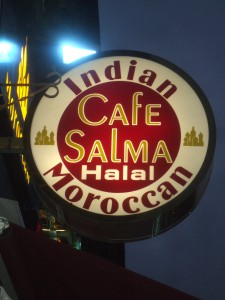 It was pleasing to note on arrival at Café Salma (523 Sauchiehall St, Glasgow, G3 7PQ)  that the place was busy upstairs and throughout my meal people emerged from downstairs too.  Hassan's business is growing and rightly so.  A colleague dared to suggest that on his visit the food was 'poor'.  Those of us who are regulars were gobsmacked by this statement.
No need for a menu tonight, just bring me a Lamb Karahi, on-the-bone and a Mushroom Rice: and no Capsicums!
The complementary Popadoms (singular) and Chutneys helped passed the minutes until the meal arrived.  Meanwhile a table of five patiently sat for their Moroccan dishes to brought up from the downstairs kitchen.  The three guys on the ground floor were certainly being kept busy on the Curry front this evening.
The Lamb Karahi was as good as ever.  The Masala is decidedly thick, one suspects more than Onion is blended into this sauce.  The aftertaste is what makes it all the more memorable.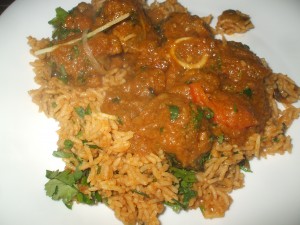 Hassan came up from downstairs and shook my hand, even though I was eating.  How many handshakes did I receive tonight?  It is like walking into a place of friendship.  'I have been looking at you website', Hassan said. '…all that lovely food makes me hungry.'  Hassan calls me 'Hector', quaint!
I was offered 'Dessert' even Ice-Cream(?), I declined.  Hector had consumed an elegant sufficiency.
The bill came to £12 plus and was rounded down, one cannot then leave a tip when this happens.