…We need to find somebody who can fly this 'plane who did not have Fish for dinner…
Today Yvonne chose Yadgar (148 Calder St, Govanhill, Glasgow, G42 7QP) as the Curry House of choice for her birthday.  Actually the decision was made well in advance…
It was Wednesday when Howard communicated his desire to sample the Fish Curry.  Hector could not possibly let Howard have this and not be in on it too; suppose by some miracle it turned out to be better than the Goshat Karahi?  Unlikely, but then one never knows…
When one visits Yadgar it is advised to communicate the order in advance.  Hector began negotiations midweek:
'A few of us intend coming Sunday afternoon…
There is an enquiry about Fish….
Can Fish curry be available then?
Will let you know full order later in week.
Visited a Bradford house, twice, last weekend…gosh…'
'What quantity and type of fish dish would you like? Karahi, dry, in a sauce, hot etcetera.' (Shkoor Anwar)
Fish flown in especially, from Scotland
'I have a nice bit of cod (Scottish) coming in just for the occasion.'  (Shkoor Anwar)
Four of us would have the Goshat Karahi, Howard and Hector the Fish Karahi with a sneaky Aloo Gobi side dish.
The Yadgar Welcome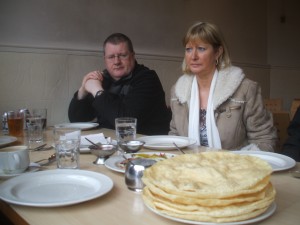 Marg dropped Hector off at 14.05, just a tad late.  The complementary Starters immediately began to appear: the Salad with Chillies, the Onion Chutney, Mango Chutney, Dips… a plate piled high with Popadoms.  Tracey had ordered a tea.
The side orders came next: Paratha, two Chapattis, the excellent Vegetable Rice (with Capsicum for those who like it) and Mushroom Rice portions for the wise.
The arrival of the Goshat Karahi was greeted with an audible gasp.  This was for the three ladies only; a less extreme portion was ordered for Craig.  Why was I having the Fish?
The Fish arrived in a similar sized Karahi to the Lamb: this was to share with Howard.  It was a good Fish Curry but I suspect next time Howard and Hector will return to have the best Curry served in Glasgow.
We ate like kings
The ladies could not finish their Karahi banquet, how sad.  This meant Howard and Hector were able to have some crumbs…  Mags managed to arrange a generous portion to takeaway in the end.
Yvonne?  She thoroughly enjoyed her birthday meal, and why not?
Aloo Gobi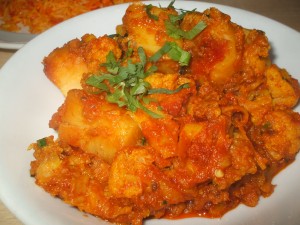 Not forgotten, but a splendid decision by Hector just in case the Fish was only em, Fish.  This provided great diversity to the meal.   Let us have more Vegetable Sides as standard.
Mr Sha, the magnificent Chef whose creations we had consumed, came out from the kitchen to take his well earned bow.  We cannot work out why this venue is not queued out the door seven days a week… just as well for us…