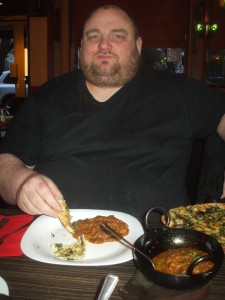 It was hard to believe that Jonathan had not been to Cafe Salma (523 Sauchiehall St, Glasgow, G3 7PQ) before.  But then again, he is usually on his way back from the frozen north when Dr Stan and I make our near ritual Friday teatime visit.  Where was Dr Stan?   Jonathan was early and was tucking in to the complementary Popadoms and Chutneys.
Hector was wondering why Jonathan was paying such close attention to the menus.  The dishes of choice are all on one side panel.  That was the moment I realised this was his first time.  Hector gave his recommendations and Jonathan selected the Lamb (off-the-bone) Garam Masala with a Garlic and Coriander Nan.  Hector decided that for a change an Aloo Paratha would accompany the usual Lamb (on-the-bone) Lahori Karahi.
The staff were as attentive as ever.  'Dessert' was mentioned before we had made order, alas the consumption of all this bread would make a shared Kofta Palak out of the question.
Jonathan actually made no comment whatsoever about the quality of the meal: he presumably knew it would be excellent, it was.  One cannot help think that a Chef must have been to the Village at some time as the Masala looks very similar to the Desi Korma/Tawa served across the river.
The Bill
Hassan must have noticed my puzzled expression.  There was a £4+ item, the soft drinks? Hassan came over to the table and reduced the bill to £11.50 each, much better.