Their words, not mine…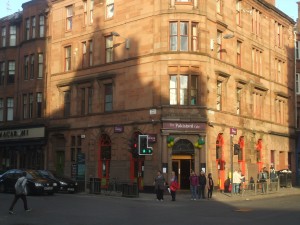 Last weekend Dr Stan and Hector observed the finishing touches being made to the relocated Pakistani Café (2 Byres Rd, Partick X, Glasgow, G11 5JY).  Assuming it would be open by this evening, we resolved to have our Friday night Curry-Heute in this welcome addition to the Glasgow Curry Café scene.
With pillars and a raised mezzanine the layout of the Pakistani Café is quite attractive.  What was left over from the previous incarnation as a bar I know not. A comfortable table for two was a difficult choice, we settled for a table for four at the window.  We had been offered upstairs where the only other customers were located.  From our perspective they appeared to be sitting on cushions.  Fearing we might not be able to stand up again we stayed where we had selected.  A large table had church pews.  There was an interesting array of tables and hidden locations.
Not much is happening on the Bier Today front, and even less on the imminent (?) Bier Traveller so if the Bier does not get mentioned here the highlight of the evening will be lost. There is Bier at the Pakistani Café, bier worth mentioning.
Hector spotted three taps at the far side of the bar.  Krusovice and Weihenstephan  were easily identifiable, but what was the furthest?  I went up to the bar for a closer look and saw a pink elephant: Delerium!  On draught, in Glasgow – gosh!  Hector texted the remaining chaps who instantly thought I was away, Belfast had been planned for this weekend after all.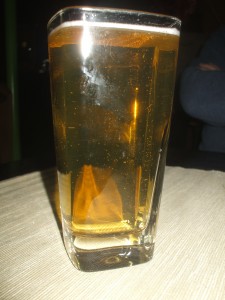 Eventually the waiter appeared and took my drink order.  Dr Stan was ignored.  The waiter was called back.  The Bier was brought, what way to start a weekend.  This place could be a hit.
 Delerium Tremens, on draught
More time passed before the waiter thought we might be ready to order.  How long did he think it would take us to read four sheets of A4 on a clipboard?  The dishes were available as Tapas portions or full size.  Hector thought the Fish Masala half portion followed by the Mutton Curry would be a sufficient feast.  Dr Stan found Black Chick-Pea Bertoli Bean Stew and had to have it.  He also chose the Mutton Curry.  Two Vegetable Rice were the sundries.
The Mutton Curry was described as being cooked for four hours until it was as tender as Lamb.  We would see, or maybe not.  The waiter came back to ask if we wished Rice or Nan with our Starters as we had effectively ordered two sets of Curries.  Chapattis was my reply.
A minute passed
…followed quickly by another minute, when suddenly another minute passed.  Then another minute which seemed and age but was only minute, passed.  Initially we were entertained by what had to be a Keith Jarrett CD, solo piano, excellent.  The quality of the tracks disintegrated somewhat, the waitress could not confirm what the CD was; she was going up and downstairs with a stream of drinks and starters.  Our starters arrived.  A solitary Chapatti.
The Fish Masala was ok, that is about as much as I can say about it.  The mind of Hector was imagining the excellent Fish Masala currently being served five minutes along Dumbarton Rd at the Mother India Café.  Dr Stan's Black Chick-Pea Bertoli Bean Stew was served in a very small bowl.  It looked like a plate of Beans to Hector who was instantly relived that he had the Fish.
There was time to reflect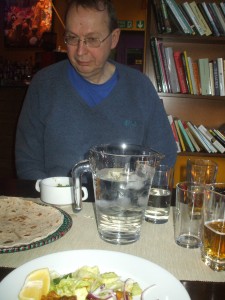 This is the first time Hector has been on these premises since the mid 1970s when the Bank of Scotland occupied the site.  Working in the legendary Wilson's Bar from 1974 onwards through my student days, we would go to the bank for change.  Donald and I concluded that this branch was the dumping ground for those employees who didn't quite meet the requirements to work in the city. Now look at the numpties employed in our banks.  We used to joke that if anyone tried to hold this place up, the service was so slow they would be caught before they were served.  Apparently someone did try to hold up this bank and allegedly got nothing.
Given the inevitable effects of Delirium Tremens, I thought this would be quite a chatty Curry meet.  It was becoming so.  This was just as well because the staff were running around doing nothing as far as I could make out.  A young lady with her coat on was now present, was she staff, what was being sold in Tesco that required two members of staff to be sent?  Another minute passed.  In fact it was becoming ridiculous, two Mutton Curries, were they not expecting to serve this tonight?
Jonathan and Hector visited the Pakistani Café in its first location on Pollokshaws Rd (the other side of the lights from the Allison Arms) a couple of years back.  The menu was minimal the portions microscopic.  I recall the chap came over to see us after a few minutes and we had almost completed our meal.  He brought us more.  We never went back.
Two years has passed since then, about as long as we felt we had waited for our main courses to arrive.
It was a Curry

Two plates of Mutton Curry were laid before us and a generous plate of Vegetable Rice.  'Is that for two?' I asked.  'No, I am bringing another plate.' was the reply. He came back, 'that is two portions', not so generous then.  Indeed, £5 for this?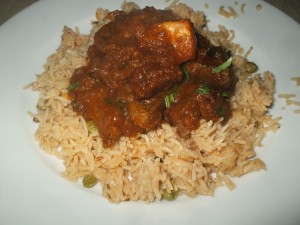 The Mutton should have been more tender.  Four hours? It needed longer, overnight is how Hector prepares his Mutton Curry.  The Masala was only distinctive by the slightly burnt taste that was given off.  This was nothing special at all. Because of the passage of time I was ravenous.  The Curry of Hector disappeared very quickly.  Dr Stan ate at his leisurely pace.  When he was finished he summed the experience up quite well:  'It was a Curry'.
The Verdict
The Bill came to £36.  They only took cash.  I forgot to give them my calling card such was my shock at parting with a £20 note on a Friday night.  With The Wee Curry Shop across the street, Balbir's in Church St and the Kelvin Hall a mere five minutes away at which starts Glasgow's 'Curry Mile', and not forgetting the Indian orchard and Papa Gills further along at Partick what chance does this place have?  If they sell the Delirium Tremens at a reasonable price and permit people to snack, then I could see a return visit.  For a Curry-Heute?, no chance.
Update
After what seemed to be a matter of weeks, this venue closed.  The business has returned to the original premises in the South Side on Pollokshaws Road.