On Hector's last visit to The Urban Pind (18 Candleriggs, Glasgow, G1 1LD) the excellent value lunch menu was well appreciated.  This evening I was determined to try the a la carte menu.  The Chaps were putting out the Buffet as I arrived bang on 17.00.   They instinctively brought me the menu which got things off to a positive start.  I spotted the words 'Desi' and 'Tawa' and was nearly tempted then I found the meal for Hector: Lamb Lasun Handi.  The Lasun Handi is cooked in a clay pot, it is essentially a Stew.  Now given the recent visits to The Khyber, Scotland's first Afghan restaurant, this was going to have to be good to have any chance of making an impression.  A Vegetable Rice was the accompaniment.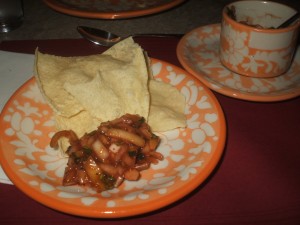 In the meantime a complementary Poppadom and a pot of Onion Chutney were presented.  The Onion Chutney contained small pieces of Cucumber too and was outstanding.  Cumin I believe was the underlying taste that made this so remarkable.  When the starter is good how often does the main disappoint?
There was no sign of the clay pot.  In Turkey when one orders such a meal the pot is brought to the table and smashed open before the diner.  There was no such ritual here.  I was instantly amused by the dish and the fact that there were 'croutons' of Garlic floating on top of the Masala.  Hector will now refer to this as Gravy.
Having flattened the Rice and not found that much of a Vegetable content I stated spooning the Lamb and the Gravy onto my plate.  Here we go … nothing.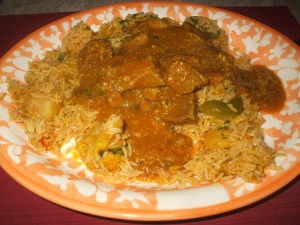 There was an occasional Garlic blast. The Lamb was variable, some pieces tender, some pieces quite chewy.  At times like this one wonders if it is Lamb.   The portion was ample, it became quite frustrating trying to get the meat and Gravy out of the pot, in the end I didn't bother.
I would possibly been a happy old Hector if I had stuck to the Karahi.
Nostalgia
About ten years ago Tony from the New Anand set himself up on Pollokshaws Rd, opposite the Allison Arms in a new venue: The India Gate.  The place is now Kebabish.  They had a Buffet.  In this Buffet was a Lamb Bhuna.  Never has so much Garlic been marinated into the Lamb.  They did maintain this quality for a while and then it declined.  I have tried everything to replicate this without luck.  However, that was a Curry.
 Update
Kebabish didn't last long…  Tony, Mein Host at India Gate now runs Curry Haven in Strathaven.