Friday, April 15th, 2011 : Opening Time for the Punjabi Charing Cross, meanwhile the Bon Accord Ale House is 40 years old today, nothing special happening there then…
Hari and Hari's new outlet
Hector has been on tenterhooks for the last few days, a prisoner in his own home whilst a new kitchen was installed and therefore no cooking facilities whatsoever.  This is the reason behind the Curry Binge, there was also an underlying plan to the week :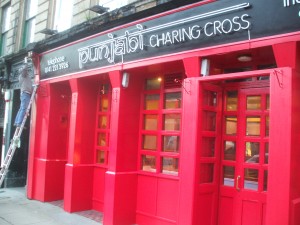 The Punjabi Charing Cross (North St, Glasgow, G3 7DA) a new Curry House is scheduled to open this evening, immediately next door to the Bon Accord.  It is a genuine Indian one too. Hector knows, he has been in conversation with the owners throughout this week of vacation.  Hopefully a more in focus photo of Hector and Hari will appear in time to come.  The 'other' Hari needs a steadier hand.
The Chaps have been running one of my all time favourite venues but only for the last five years: The Modern Punjabi (560 Paisley Road West, Glasgow,G51 1RF).  Neil and Hector ate here back in the 1970s, occasional visits have been made since then.  Marg sometimes gets takeaways from there when she is at The Wendyhaus.
A new experience
Hari has told Hector that he has something different to offer his clientele.  Others have suggested to Hari that his meals deserve a wider audience leading therefore to the opening of the new premises in town. Hari aims to offer Punjabi cooking as it has been done for centuries in the villages of India.  So, no Chicken Tikka Masala on the menu then?  One may also deduce that the Vegetable dishes could be to the fore. There are many Curry Houses in this area and Hector has been Blogging throughout this week an up to date appraisal of the 'opposition'.  Only the Café Salma can be described as outstanding amongst the local rivals.
Here we go…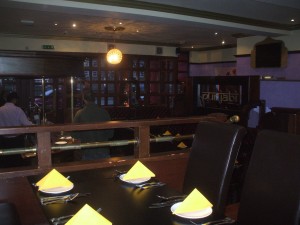 The above was set to post at 18.00 this evening as Hector and Marg would enter the premises.  As we entered a chap was cleaning the floor, evidently we are too soon.  Young Hari came over and welcomed me by name.  Now this is a first surely, to enter a brand new Curry House and be recognised in such a manner. This made me a happy old Hector, sad or what?  He said he would come in to the Bon Accord and fetch us when it was time.
The Bon Accord was full with the usual Friday night after work jam.  This soon cleared and Steve joined us.  Mein Host, Paul, greeted us with some  'raffle tickets', each worth a pint, this would be a grand night.  If only I could get some Curry-Heute.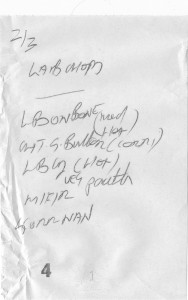 Shortly after 20.00 we were invited next door, we were officially the first customers and the guinea pigs.  The complementary Popadoms and Onion Chutney were brought straight to the table.  There was no menu.  The waiter asked us what we would like and he would do his best to get Chef to cook it.  Tracey later rhymed off the following: Lamb, on-the-bone, dry-thick Masala, lots of Cumin, Herbs, Coriander, and Methi – medium to hot.  I am a predictable old Hector.  I was told that on-the-bone was not possible, but Young Hari appeared and stated that 'Hector' could have his on-the-bone.  This turned out to be a crucial statement.
Steve asked for basically the same but hotter and off-the-bone. Marg took the ladies option: Garlic Butter Chicken. For the sides one Mushroom Rice, one filled Paratha and one Naan.
Young Hari then announced that he was bringing us Lamb Chops!  I have been aware of people's obsession with this Starter but have never been tempted due to the fear that the main course may not be done justice.  Does Hector ever look a gift horse…?
The Lamb Chops were presented, fine, succulent, very tasty, well spiced but not the mind blowing dish that others lead me to believe they can be.  Further research is required here.
The Mains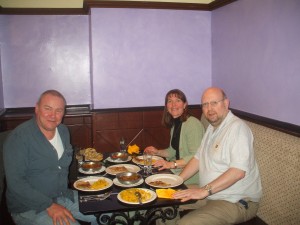 After the ritual photographs, permission was granted to commence eating.  Steve and I both tasted each other's Masala with a piece of crispy Paratha.  Steve's was sweet, mine was saltier, and I think I won the watch.  The portions were commensurate with a London restaurant, hopefully they will increase this, but as we had no idea what the price of anything was we just got on with the 'job' of eating.
Marg was enjoying her Chicken creation; she finished the lot which is unusual.  The Naan Bread was done to perfection, good thick edges.  Steve said his Curry was good, I knew that the on-the-bone makes a significant difference.  Tonight Hector was introduced to a new 'Taste' – this makes the perfect evening.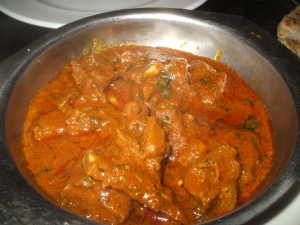 Whatever nomenclature this appears as on the menu, I want it again…
A Curry House of this quality next door to the Bon Accord, does life get better?
*
*
The Bill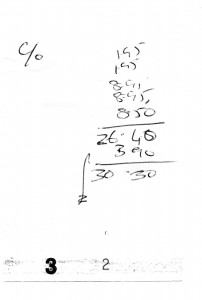 Before issuing the bill, Young Hari came and offered us more of the same.  He was aware that the portions were on the small side, but having eaten the Lamb Chops were had all eaten a sufficiency.
A modest £30 was sought by the management, we paid cash – even though we were assured that their electronic device had been set up.
We discussed the meal and I was bold enough to make the suggestion that on his menus he sells by weight as well as by portion.   Mumtaz in Bradford was the first place I encountered this, at the time I wondered why, these days it seems to be a logical.  Yadgar and The Khyber have adopted this practice. We shall see.
And there's more…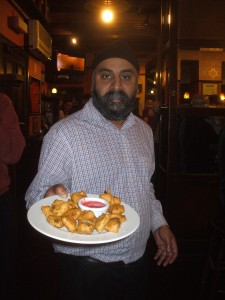 An hour or so later, the Edelstoff makes one lose track of time, Hari appeared in the Bon Accord with a plate of Haggis Pakora.  Now where did he get that idea?
The official opening for dignitaries et al is next Friday.