Hector and Marg are having a short break in Cumbria, not the Lake District. Barrow in Furness is the site of our nocturnal repose, however Ulverston has won our hearts with its traditional Market Town atmosphere and an amazing array of hostelries. Having said that, Hector has yet to taste a decent pint on this trip. Today we did walk to the southern tip of Walney Island and sailed – by boat! – to Piel Island for the Castle and em, lunch at The Ship Inn.
Research on other sites suggested that if I was to have one Curry-Heute only on this trip then it would have to be at Naaz (15-17 Queen St, Ulverston, LA12 7AF), and not in Barrow itself. Though there does appear to be another Naaz in Barrow which is under construction.
Hector already has his meal selected from the online menu: Rajastani Gosht – A fairly hot stew dish prepared with shanks of grilled lamb and gently simmered in a yoghurt and tamarind sauce. A superb lamb dish with a strong flavour. Marg nearly had Spinach but went for the far safer Tandoori Butter Chicken – Boneless tandoori chicken cooked in a creamy, buttery sauce, made with almond flakes, a touch of coconut, onions, cream and a touch of tomato paste to give a slightly sweet and creamy flavour. This dish came with a warning: …may contain nuts… Really?
Vegetable Pilau Rice was the usual accompaniment then Marg astounded me: Shall we have a Paratha? Now Marg has moved on from a share of Garlic Nan due to the sheer volume, certain establishments excepted. In recent times it has been a Chapatti each, but now the Paratha, and a stuffed one at that! There is hope.
Having had a Steak Pie lunch on Piel Island, Hector knew that no Starters were necessary, not even a Poppadom. We were offered some, it is a shame we were not ravenous as the Starters were all reasonably priced.
The wait for our meal was not a long one. There were only three other diners and another couple joined the assembly before we had finished. The Masala in Marg's Butter Chicken had formed a slight skin, it had probably been waiting for the more complex Lamb dish.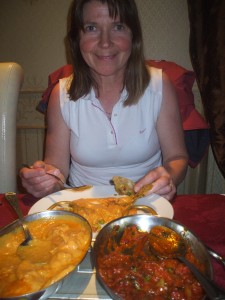 The Rajastani Gosht looked 'red'. The Masala was not not excessive and on first taste seemed quite sweet. On dipping the Paratha into Marg's, gosh this was sweet!
The dish was pleasant enough in flavour, indeed afterwards it dawned on me that I recognised 'the taste', it is what I call the Clydebank Curry taste. The Onions and Tomato Puree are very much to the fore. My main criticism of this dish has to be the Lamb. Now the menu does say stew, so how come this was Lamb Tikka? Had they really boiled Lamb Tikka to create this dish, I felt there was no evidence for this and therefore the Lamb was not as succulent as Hector likes. Indeed, far too chewy at times.
Marg remarked on the cream and coconut content and the fact there was plenty of Chicken. A bit bland compared to Mother India's Cafe (Glasgow) where the same dish always has a kick.
We ate the lot bar one tiny piece of Paratha. The Rice portion was not huge but turned out to be sufficient to share. The Coriander in the Paratha gave an interesting diversity to the main dishes.
Tomorrow The Laurel and Hardy Museum and the Barrow Dock Museum, Furness Abbey and the 'Zoo' at Dalton on Furness. Hector sure knows how to show a lady a good time…
Hector shall certainly return to Ulverston, many pubs and two more Curry Houses…