Having come to regard John as a virtual resident at The Village, he too has come to terms with declining standards and is exploring pastures new.  It is on his recommendation that Hector finds himself a few blocks further west at Mr India Thali (470 Paisley Rd, Glasgow G5 8RE).  Before arriving there is eager anticipation – just the six Karahi dishes to choose from plus an entire page of Chef's Specialties and a Connoisseur's Selection.
Open 11am until 11pm
But not at 15.45, so where now?
The Khyber, that's where. They will be open and they will serve Hector a unique interpretation of on the bone Lamb Karahi. In the ten minutes it takes to walk up to Pollokshields the salivation process will be well underway…
Bang on 16.00 : I was surprised to see two other diners being served as I entered. I was greeted by Hamza, three visits and we are on first name terms. He was expecting a large group to arrive later in the day, being a Bank Holiday most people would be out for the day. Hector was of course out for Curry before meeting up with the rest of the gang, some of whom had disappeared to Loch Fyne. More about this on Saturday.
The Khyber once again served up a meal which made me wonder if I was eating Curry. The first couple of mouthfuls felt very stew-like on the palate, then the tastes slowly emerge. The fresh Chillies are only partly responsible for the wave of heat. The flavours are never compromised and the pulped tomatoes at the base of the Karahi are testimony to the fact that no puree or any sauce has been added. What Masala there is has come from the meat. There is no debating the presence of Lamb here either. The whole animal could well be on the plate.
The half kilo portion is immense, a veritable feast. Normal diners could share this especially if they had the Starters. Hector was there for the Curry-Heute.
One could never leave The Khyber feeling hungry, and at £14.50, worth every penny.
The Postscript to Mr India
John came into the Bon Accord this evening: 'I was there, they were closed'. He replied: 'I was there, they were open.'
They had been open at 14.30, I had missed John and a new Curry experience by minutes. Once again he was impressed, today by the Puri and the Aloo Gobi.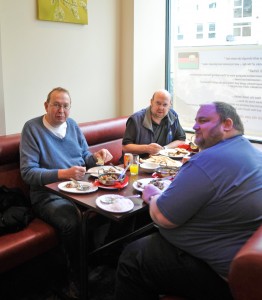 There are no photographs today, the trusty pocket camera has given up the ghost, so here is another shot taken from the last Khyber visit as taken by Stephen of Motion and Stills.