27C! Hector feels the sun on his back, it is good.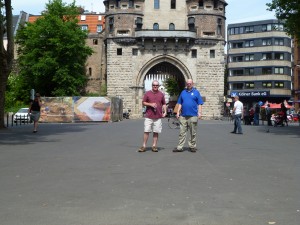 Steve and Hector are in Köln couresty of very generous flight prices from Mr Stelios. Dr Stan was waiting for us in the Früh Keller last night. When the locals were permitted to 'light up' around midnight we decanted to the new Gaffel Haus and onwards to the Gilden Haus. It was a late night and so there was no breakfast for Hector, not that there was anything on his mind other than what time would the Curry-Heute be?
With Dr Stan Bamberg bound, Steve and Hector walked around the ring road to Chlowigplatz and the Altstadt-Sud. There was a brief stop at the real Pfaffgen Haus en route.  Früh em Veedel was the first major pit stop of the day. After an hour and the litre we walked the few paces past the city gate to the Indian Curry Basmati House (Severin Str 40, 50678, Köln). The same Doris was serving, again her wean was stuck playing on the premises.
The menu seemed to be more expansive than I remember it from the February trip. Everything is available in Huhn (Chicken), Lamm, Rind (Beef), Ente (Duck) and Krabben (Prawn). One can never have too weniger Ente. Wait a minute, over the page is Fisch!
Having sampled the Karahi last time, the Lamm Chilli Masala took the fancy. This had the hot Chilli Sauce highlighted and a doze of Lemon, sounds good. Steve went for the Lamm Madras. Doris confirmed the dishes were 'Hot', we shall see.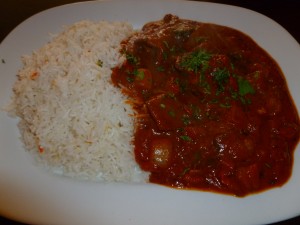 At €8.50 with Rice this Curry Cafe is good value. We passed Jaipur later in the day and everything was €13 plus and extra for the Sundries. Sounds like Hector may never get to sample that outlet.  Whilst we waited, a member of staff brought out a wonderful looking Vegetarian creation – a Chana Masala.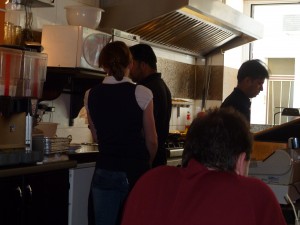 The Curries were indeed 'Hot'. For Germany this is quite a feat, like trying to get a steak without blood. The Lamb was perfectly cooked, just chewy enough and very tender, not the Pulp Hector served his guests last week. The Masala still had  a touch of what I call 'The Bisto' taste, as if packet ingredients had been used. This is not the case, one watches Chef prepare the dish and sees all the add ins. There was an underlying Cinnamon which certainly added to the experience.
In no way is the Indian Curry Basmati House at the level of the magnificent Indian Mango in Munich, but as far as Köln goes, it appears that this is the place to be.
The Fisch Saag is now on my mind. Steve likes Curry too, we shall see…