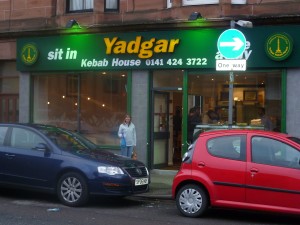 Hector is at Yadgar (148 Calder St, Govanhill, Glasgow, G42 7QP) for a Curry-Heute and to take some more photos of Mr Shah, and his very special creation,  something to do with the need to make a presentation in a hurry.  Hector voted for Mr Shah as Chef of The Year in the forthcoming Scottish Curry awards.  The writer of this Blog was shortlisted for an award,  not my favourite Chef, an oversight.  Marg is here too.
Shkoor had been emailed with the order – 1kg of Goshat Karahi – 'Hector Style',  …on the bone, dry, hot.  The Mushroom Rice and Aloo Paratha were last minute decisions and were ordered on arrival.
Within minutes the free Starters were making their appearance: Poppadoms, Onion Chutney, Raita and the most elaborate Salad presented yet with large Chillies standing proud.  We are spoiled on every visit.
The Main Event
Hector has a sudden need for a video clip or two, and he has now learned how to get them on this Blog.  Mr Shah made his entrance with the large Karahi, there should be a fanfa re.  Picture this – Mr Shah makes a Curry exactly the way Hector enjoys it – how many Curry Houses can match this for service?  Some say they cook to order, at Yadgar the Goshat Karahi is always cooked to order.  That my own preferences are so dutifully catered for makes Yadgar a very special place.  To think some people still go out for a Chicken Curry with lots of runny Masala…  There is no way Hector can fathom what the tatse of this meal is other than 'perfection'.
The Curry was on the hot side for Marg.  The Mushroom Rice was also was rich in Peas and Potato, as written before this is a virtual Biryani.  The Paratha was huge and half of it came back to Clydebank.
Shkoor checked on our progress through the mountain of food.  Another stomach would have been welcomed but they do not even hire them never mind sell them.  The strategy became one of judging how much to consume versus how much to take away.
Pink Tea
Marg took the opportunity to order the sweet, pink, milky Kashmiri Tea of which she is so fond.  I had finally reached my limit and arranged for what was a normal full portion to be packed up.
The Bill
Hector cannot divulge The Bill on this visit.  There was recognition of a previous misunderstanding, all is now sorted.  We now have reached a formula to ensure that our insatiable desire for Curry is always catered for.