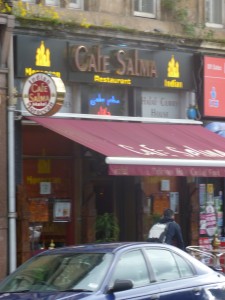 With Dr Stan still in Bamberg (allegedly), Hector Naypals dines alone this evening early at Café Salma (523 Sauchiehall St, Charing Cross, Glasgow, G3 7PQ).
There was only one dish on Hector's mind and it has taken time for my brain to come back from the fourth dimension – where Yvonne  considers it to be most of the time – and work out why Kofta Palak was calling so loudly.  It was a taste of Spinach last Sunday in Köln coupled with the fact that I failed to get a sample of my own Spinach creation some two weeks prior.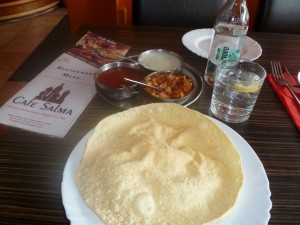 Hector arrived at Café Salma around 17.00 which is early for a Friday evening Curry-Heute.  The fact that I have not seen most of The Friends of Hector for a couple of weeks had something to do with this.  That 'The Other Place' was selling Jaipur at £1.80 a pint may be another reason.
Hassan was immediately around the counter to welcome me with his customary warm greeting.  Hector did not get a hug, the next customers did.  Note, must work on this…
The free Poppadoms and Chutneys appeared instantly no time to lose.  The Kofta Palak (hot) was ordered and appeared in a fraction of 'One Robin'.  The famed Garlic and Coriander Nan was the accompaniment.
One has to be in the mood for Spinach I find; it can be quite a blast.  Hector remembers tastes and the taste of my last Kofta Palak at Mother India's Café is still in the memory banks.  Whilst this was very good indeed, I now have to admit that the Mother India version has a distinct edge.
Soapy?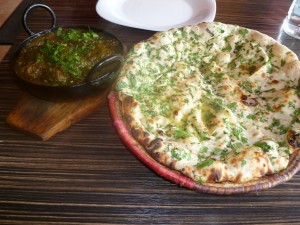 Spinach can taste herby, even burnt.  I am convinced this evening that Hector was sensing soap on the palate at times.  Most alarming.   Meatballs still puzzle me.  Why are people apparently obsessed with these?  Next time maybe Keema Palak.
The Staff
There has been a complete change of staff at Café Salma in recent weeks.  Hector is a stranger in a place he now considers home.  It is frustrating when this happens.  This is why the Alishan in Battlefield Rd and The Akash in Helensburgh remain favourites – at these venues the staff have not changed in years.