The Footae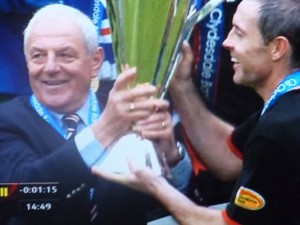 Today has been a day to celebrate on many levels.  Firstly there was the magnificent result from Rugby Park tinged with sadness as we say farewell to (Sir) Walter.  Hopefully Mr Cowan will have the opportunity of smiling next Saturday but not next Monday.   There was then the chance to wind up Paul at the Bon Accord.  He claims he had a bet on 0v5!  Marg the ever dutiful wife collected Hector from 'Glasgow's Finest Alehouse' and unusually decided that Woodlands Rd was the best route west.  Prepare for another moment of serendipity.
KRK
The main cause for celebration today on the Curry-Heute front was the discovery that KRK, the best Asian grocer north of the river had reopened.  Officially they re-open on Thursday but the shelves were being stacked this evening and a small army of chaps were pricing every individual item.   Most importantly, the butcher shop was back in operation.  Marg marvelled at the care taken to prepare 1kg of Lamb on-the-bone.   I couldn't see a price list to ascertain the price of Lamb in its various forms.  Hector will be in the case soon.   The faces here were new, where are the regular guys?  Hector has been told part of the reason why the place went into decline in recent months.  It was good to see Mein Host back behind the counter, so at least there is some continuity.
I related how I was forced to purchase Lamb at a neighbouring outlet recently and that it had turned to pulp.  There was a shaking of the head and a dismissive comment.
St Louis and the Coriander King
Steve and Ian were performing at St Louis this afternoon.  We had timed it perfectly to arrive immediately after they had completed their set.  Could today get any better?  It did.
Hector was introduced to Juliet's father – Monty.   He is the self titled Coriander King, once being the man behind the delivery of Coriander Seed to the UK back in time.  East Africa and the Black Sea nations were the sources of this fine commodity.  London, Leicester and of course Bradford were his main supply points.  I have long been intrigued as to where the actual plant is reared within the UK in order to guarantee a continuous supply of this very fine herb on a daily basis throughout the year.
Life without Coriander, unthinkable.