Curry-Heute #2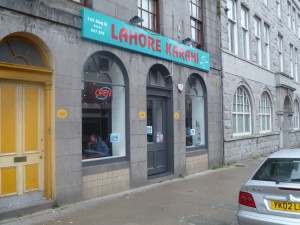 Steve has been raving about the Lahore Karahi (145 King St, Aberdeen, AB24 5AE) which he now visits on every visit to this city. Marg and Hector met Graeme just after 18.00, who had moved King St this far from George St? It had been described to me as a cafe, but this was certainly more upmarket than the Glasgow-Manchester-Bradford style of Curry Cafe.
Graeme's first remark was that the premises were not licensed. This is never a problem for Hector.  Graeme is one of only two people I would ever contemplate a Bier with over a Curry, but not tonight. They did not have Sparkling Water so there was no drink order from me.  Marg had a Mango Lassi.
The Methi Gosht caught my eye so that was me sorted. Graeme and Marg both went for the Lamb Karahi. There is the option of Lamb on-the-bone but an hour's notice is required, next time. A stuffed Paratha, one Pilau Rice and a Buttered Roti were the accompaniments.
A Dippy Waitress
Hector was wondering if Marg's assistance at Hannah Bakes Cakes tomorrow would last all afternoon thus permitting the intake of the on-the-bone Lamb Karahi.
'What time do you open tomorrow?'
'The same time as today'
At least she did bring the complimentary Poppadoms and possibly the meanest set of dips ever presented. A Chap appeared to ask how we wished our Paratha to be stuffed. The Keema was declined in favour of the more traditional Aloo.
There was only one other table of diners so our meal did not take too long to arrive. The food was brought by another waitress: 'Saag?' Now it always worries me when the staff even think the meals look the same.
There could have been more Methi in my Curry. This was enjoyable but nowhere near as impressive as Steve's great discovery in München. Marg liked the fact that the pieces of meat were small. I did manage to taste a fair bit of Marg's Karahi as the quantities served were certainly generous. This was perhaps sweeter than my Methi as one would hope.
Graeme enjoyed his meal and this was his first ever Paratha. This will become his new standard side as even he feels that Nan can be overwhelming at times.  The Rice did the three of us, so again a positive comment on the portions.
*
The Bill
£35 was very fair, but there was only one soft drink.
Hector will be back.
(There was a text from John in Munich this afternoon winding me up with messages that the Indian Mango was closed. I have emailed Mr Jolly to find out more.)