Two satisfied customers
It is a holiday; it is Dr Stan's birthday. Hector had a Horrible Curry the previous day, so what better way to celebrate than a visit to Mother India's Café (1355 Argyle St, Glasgow, G3 8AD) . Dr Stan and Hector have never dined here together. On Hector's last visit he announced to the World that the Kofta Palak was the best ever tasted, this was the objective for the day.
No Kofta Palak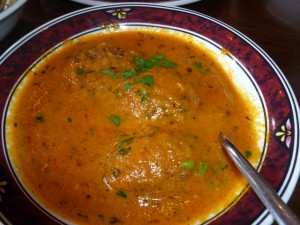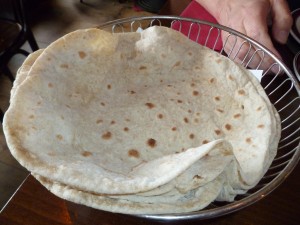 Sadly the required dish was not available as one of the Specials today. They did have Vegetable Kofta, so we both ordered this. Dr Stan's other selections were the Handi Chicken and Lamb Saag. Hector had his usual Machi Masala and Lamb Karahi. Four Chapattis to share were the accompaniments. The place was remarkably busy; Hector is not used to seeing so many people out eating at the same time. At 14.30 one may have anticipated peace and quiet, this place does a roaring trade.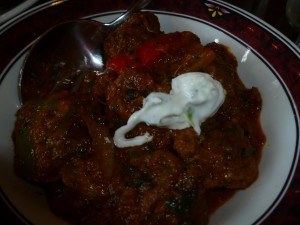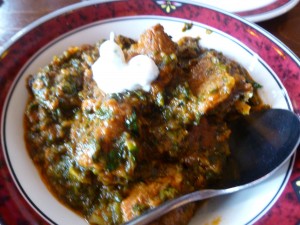 The Tapas portions arrived piecemeal; I was getting stuck into the excellent Lamb Karahi when the Vegetable Kofta appeared. The balls were mushy; the Masala was light in colour – Soup! Is what best describes this dish. A very tasty soup it was too.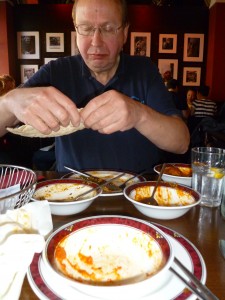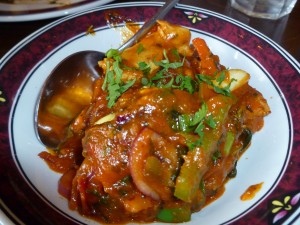 Meanwhile with my attention back on the Lamb Karahi, Dr Stan was trying to work out the familiar taste of his sweet Chicken Handi. It was two hours later when 'Mango' was uttered form the maestro's lips. The Lamb Saag passed without comment, but the Machi Masala is always perfection. The best Fish Curry in Glasgow?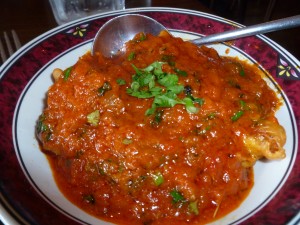 The Bill
£35.80, or 5p less than yesterday's unhappy encounter in Cambridge. This included a litre of Sparkling water at £3.25 for the litre. This was quality food served by attentive staff, one could live here too.