This is the start of a busy weekend of Curry, Prog Rock and the Sunday lunchtime payback.  Hector Naypals was once again the lone diner at Café Salma (523 Sauchiehall St, Glasgow, G3 7PQ).  Hassan was not at his usual post, though his very beautiful young lady assistant beamed her usual gracious smile. The face was put to the Glasgow voice heard on the last visit, a new greeter.  He was keen to give the customary Café Salma welcome though it is evident that our new Assistant-Mein Host knows sod all about Prog Rock.  Pendragon are in town, their third Glasgow gig in the last couple of years after a gap of over twenty.  Things are looking up on the Prog Front, the Glasgow Curry Front does not have to worry.
The menu was scoured to avoid any embarrassing cock-up on my part. This time concentration was to the fore: 'Hot, and on-the-bone', I forgot this in my haste the  last time I ordered. The Lahori Karahi is Hector's favourite meal at Cafe Salma , and with Mushroom Rice gets the weekend off to a fine start.
The Complementary Poppadom, Onion Chutney and Dips were consumed whilst aforementioned sub-host engaged me in conversation.
The superb dish arrived in good time, well who else was the Chef preparing for?  Sizzling hot in the Karahi, a magnificent creation, and why I eat so much Curry.  Other food pales in comparison.  There was a mass of Mushroom Rice but this proved no problem for Hector whose appetite was honed for this moment.  The meat was piled on; three pieces of bone the rest the tenderest Lamb, the Masala thick with a hint of sweetness.  Who needs The Village?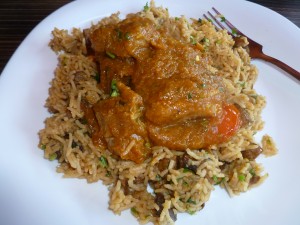 Hassan appeared, still no hug, well I was eating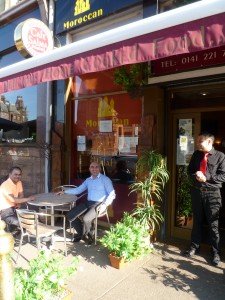 Hassan was pleased to inform Hector that that Chef #1 is back from vacation in Pakistan.  This is a relief for Hassan as there is sense of trust the subordinates have apparently not yet achieved.  The sun was shining in this late evening as Hector departed for the Bon accord to await Marg and the rest of the proceedings.
Pendragon in Glasgow, how I love to write this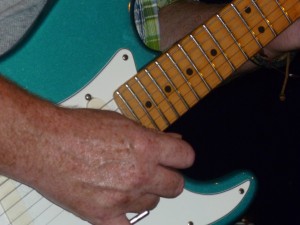 Pendragon are one of Hector's favourite all time bands.  I was in an audience of less than ten one late night at Barrowlands over twenty years ago. They played to us as if we were a crowd.  Pendragon never returned to Glasgow for a very long time…  In the meantime I saw them in London (Marquee) and Rotherham (Classic Rock Society).
I asked a very helpful bar lady at The Ferry what time the band were coming on.  She didn't know but said she would go and find out.  She came to find me with the news that the support were on at 20.30 and Pendragon were on at 21.45.  Support? Ugh!   'Andy Sears' she said, 'Andy Sears'! said Hector.
Andy Sears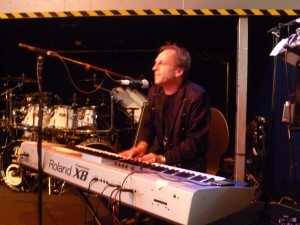 Andy Sears, last seen by Hector and Marg in Rotherham a few  years ago when Twelfth Night emerged from the Prog wilderness.  The vocalist of this legendary band is touring with a solo project aimed at the release of his own CD, meanwhile with the aid of a mobile phone, he has 'a backing band' plugged into his keyboard to provide a bigger sound as and when required.  A couple of Twelfth Night classics were performed interspersed with some of his own new songs.  Does this guy give it all when he performs – Hector could not do this, Hector could eat Curry on stage if ever there was a requirement to do so.
Pendragon
Bang on time, Pendragon took the stage and kicked of the with the title track of the new album – Passion.  The crowd went wild, all 100+ of us.  The reception was appreciated.  Nick Barrett the main man, writer, singer, wit and guitarist of note must wonder what he has to do to perform before thousands.  In Poland, Pendragon do…
A superb set, not too overdosed with new tracks.  The back catalogue is now vast after over thirty years of recording.  No (Breaking) 'The Spell' which has to disappoint, but the main set ended with Indigo from Pure, surely the finest moment in this band's recording history.  There must be a special mention of the other Clive, Clive Nolan, keyboard player, composer of epics – and Marg's favourite Prog Chap more through his work with Arena.  When are Arena touring again?
And there's more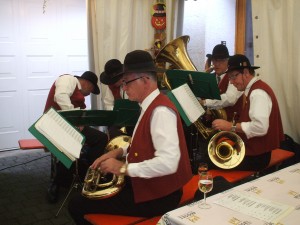 The night ended with a check on my emails at the end of the concert: Frank from the Altstadt Café, Traben-Trarbach, has confirmed he has a room for Hector, Lord Clive and Lady Maggie for the Wolf Strassenfest in September.  Maggie does not mind sharing with Clive and Hector. Could a day be any better?